A vast majority of patients would recommend UnityPoint Health – Finley Hospital to family and friends, according to patient satisfaction surveys conducted in the early months of 2023. The surveys asked patients to rate several aspects of their experiences with UnityPoint Health facilities during January and February.
Overall, Finley Hospital received a 74% satisfaction rating, which ranked third among all facilities within the UnityPoint Health system. Patients were especially impressed with the communication they received from doctors and nurses, giving that aspect of care an 85% approval rating. Patients visiting Finley's Emergency Department also noted that they felt treated with courtesy and respect, answering positively in 78% of cases.
Within Finley Hospital, several individual units received satisfaction scores higher than 80%, including Fifth Floor Medical/Surgery (91.3%), Family Birthing Suites (91.1%), and the Intensive Care Unit (88.9%). Finley Hospital clinics also recorded exceptional scores, with the Neurosurgery clinic registering a 100% satisfaction rate, while the Women's Health clinic received positive feedback from 97% of patients. Finley's Cardiology office also received high marks, with an 89% patient satisfaction rating.
The Finley Health Foundation is pleased to announce the recipients of its latest round of iGrant awards. The iGrant program is an employee-driven grant program that distributes funds collected from unrestricted gifts made by hospital, clinic, and Visiting Nurse Association team members during the annual iCare Employee Giving Campaign.
The latest round of grant awards totals nearly $36,000 and will fund initiatives and improvements throughout sixteen departments across UnityPoint Health – Dubuque, including critical need areas within Finley Hospital. The goal of the iCare Employee Giving Campaign and iGrant program is to support innovative programs, equipment and services that will enhance and strengthen the strategic framework for UnityPoint Health – Finley Hospital and its clinics.
iGrant award recipients are chosen by a committee made up of UnityPoint Health – Finley Hospital employees who represent a variety of hospital departments.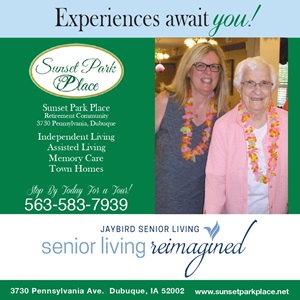 In other news, Chad Wolbers, President and CEO of UnityPoint Health – Finley Hospital, presented Dr. Andrew Vanderheyden M.D., with the Dr. John Finley Excellence in Medicine Award. The award recognizes overall excellence in medical care by a physician who embodies the mission, vision and values of Finley Hospital as selected by their physician, board and hospital colleagues.
Dr. Vanderheyden serves as a pathologist as well as being UnityPoint Health – Finley Hospital's Medical Staff President.
The Finley Health Foundation is pleased to announce the addition of Kristie Asay to its staff, as well as the elevation of Tonya Reicher to a new role. Asay has been hired as the new Director of Development, while Reicher has been promoted to Development Specialist.
Asay brings more than 25 years of non-profit experience to the position. She will be responsible for major gift fund-raising and planned giving, as well as securing grant awards.
Reicher has served the Finley Health Foundation as Foundation Coordinator since the fall of 2015. Her new role will include maintaining the Foundation's direct mailings, heading up annual giving, overseeing the Employee Giving Campaign, and managing the annual Miracles on the Mississippi Gala. This year's gala is scheduled for Saturday, August 19 at the Diamond Jo Casino.