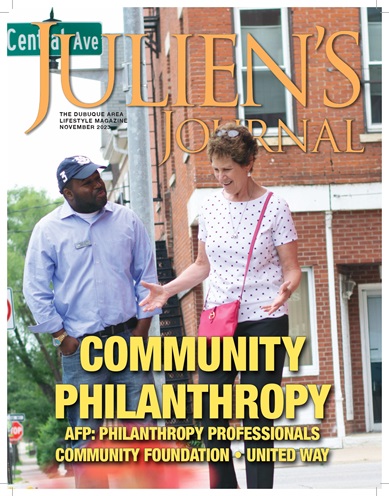 Julien's Journal is published monthly and is a Dubuque area lifestyle magazine. It is entertaining and informative in its mission to promote surrounding community, arts, institutions, and people who make a difference. Julien's Journal has a broad-based appeal to residents and visitors alike and has served the Dubuque area since 1976. It is published by RTN Publishing, as a locally owned and operated business.
For more information visit JuliensJournal.com.
RTN Publishing
6170 Forest Hills Drive
Asbury IA 52002-9349
Phone – 563.557.7571
Fax – 563.564.7641
Email: Robin@JuliensJournal.com
RTN Publishing Also Publishes

MyGardenAndGreenhouse.com a website and email newsletter that focuses on the hobby grower, small greenhouse user, indoor gardener, and small commercial grower.

Vermont Maturity a magazine that is published 6 times per year in both a print and digital format. It is mailed and distributed via newsstand to Vermonters age 50 and older in northern Vermont. Each issue includes articles on healthcare, finances, local topics of interest and other items of interest to Vermonters age 50 and older.