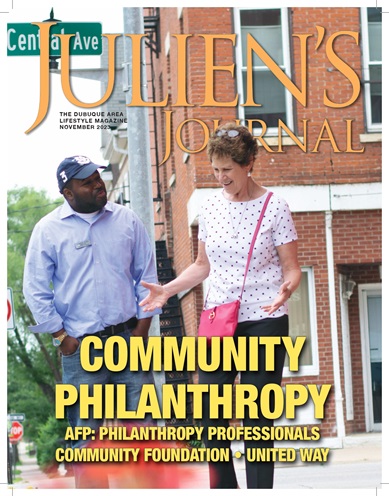 Julien's Journal is a Dubuque area lifestyle magazine that is published monthly. It is entertaining and informative in its mission to promote surrounding community, arts, institutions, and people who make a difference. Julien's Journal has a broad-based appeal to residents and visitors alike and has served the Dubuque area since 1976. It is published by RTN Publishing, as a locally owned and operated business.
Our average subscribers are:
Age 35-75
Family Households 69%
Female 59%
Male 41%
Subscriber income ranging from $85,000 to $649,500.
It includes monthly articles and departments written by local professionals:
• Restaurant Review
• Wine and Spirits
• Health and Wellness
• Medical Briefs
• Spiritual Wellness
• Business Faces
• Business Enterprises
• Dubuque Chamber News
Julien's Journal has a total monthly readership estimated at over 40,000 with a base of paid subscribers along with a strong newsstand program. The magazine enjoys a traditional presence in the lobbies and waiting rooms of professional offices and clinics who subscribe or advertise, and other high traffic sites in the area.
Click Here to Download the Julien's Journal 2024 Media Guide
For more information contact Robin Nichols at 563-557-7571 or email Robin@JuliensJournal.com.
Read this article to learn more about the value of repetition in advertising.
Say it Again: Messages Are More Effective When They Are Repeated