Dubuque's Linwood Cemetery is home to some very unusual monuments. A particularly unique one is a huge boulder that juts out of the ground and soars toward the sky. The only marking on the stone, besides the outline of a cross only nature could have designed, is the engraved name "Wellington."
Who was Wellington? And what's the story behind the boulder chosen to mark the Wellington grave?
William Edward Wellington's biography in the 1880 History of Dubuque County, Iowa tells us he was a "capitalist" born in West Cambridge, MA on July 8, 1834. He journeyed west, arriving in Dubuque on March 29, 1855 with only pennies in his pocket. William immediately went to work driving a dray and later, began working in the Mississippi River steamboat business – first serving as an agent of the Northern Line and the Minnesota Packet Company.
In 1863, William and four partners bought the Mississippi River steamer Pearl. That same year, he and three others organized the North-Western Packet Company and bought the Minnesota Packet Company stock. William is credited with putting together the first bulk grain barges used to transport grain down the Mississippi River to New Orleans.
During the Civil War, William oversaw nearly $2 million in government-funded transportation on the Mississippi River. In 1866, William's company consolidated with the La Crosse & Minnesota Packet Company. William served as superintendent of the new Northwestern Union Packet Co., managing river operations until 1872.
In the midst of his river career, William Wellington married Addie H. Jackson on January 1, 1866. Eventually, the couple had one son, Harry, born in 1867. Harry married Lucia G. Butterbaugh. Harry and his wife lived in Minneapolis and had no children.
In 1873, the Board of Directors of Dubuque's troubled Merchants National Bank asked William to "settle their affairs," resulting in his purchase of the bank's assets. Turning from the river to farmland, William started investing in rural real estate. He eventually became a "full-fledged granger," purchasing seventeen Iowa farms.
During the early 1880s, William bought a 1,920-acre "stock farm" in northwestern Iowa and lived on his rural property while he made improvements on the land. He planted timber in 1884, erected several outbuildings the following year, and sowed some 900 acres of timothy and bluegrass, converting "wild and waste prairies into beautiful and fertile fields." William also raised a flock of forty wild geese and tamed the birds to eat from his hand.
William sold his Pocahontas Co. farm and moved back to Dubuque in 1895. He hired popular architect Thomas T. Carkeek to build a home for his family at 1449 Locust Street. The house still stands as an excellent example of Queen Anne architecture. Over past decades, the former Wellington home has been converted into several apartments.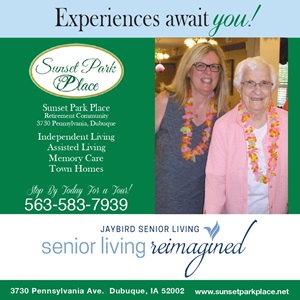 William died on June 6, 1916. His Telegraph Herald obituary provides some insights into the health challenges he faced before his death. According to the paper, in 1886, William was seriously injured in his "successful attempt to save the life of a fellow passenger in a railroad wreck." The paper reported that he never recovered fully from a "lameness" following the accident.
Three years before his death, William's eyesight began to fail, forcing him to become homebound. The week before his death, he suffered a "stroke of paralysis," dying at age 82 at his Locust St. home "peacefully in the presence of his family." William's funeral was conducted in his home on June 8 with a private burial following the service at Linwood Cemetery.
William's wife Addie died ten years after his death. Her Telegraph Herald obituary listed her son Harry S. of Minneapolis as her only survivor. Addie's funeral services were also held in the family home with burial following in Linwood Cemetery.
When Harry's wife Lucia died in1933 from complications of the flu, she was brought back to Dubuque for burial in Linwood. Harry died January 27, 1953, exactly twenty years to the day after his wife's death. He joined the rest of his family in Linwood in the shadow of the Wellington boulder.
And what about that monumental stone, which looms over the Wellington graves in Linwood? Sometime before his death, William became obsessed with finding a large stone to mark his grave. When asked, he couldn't describe what the rock might look like, but he assured everyone he would know it when he saw it. William Wellington spent a lot of time and money hunting for the perfect boulder as he traveled across the country in an exhaustive search.
One might expect William would discover his boulder out East among the jutting stones and granite quarries. But that wasn't the case. In 1898, he found exactly what he was looking for in a field on the Wooden Shoe Stock Farm in Thornton, IA, a small town south of Mason City. He hired a team to excavate the stone and had it transported 140 miles to Dubuque on a railroad flatcar.
When the boulder arrived in Dubuque, special steel rails had to be put down from Windsor Ave. in front of Linwood Cemetery up the hillside to the Wellington gravesite. With much effort, the 28-ton, 13-foot-tall marker was pulled up the hill and erected on a base that measured 22-feet in circumference. One can easily imagine William watching the progress of the boulder as it was hauled to the patch of ground that would one day be his final resting place. No doubt, he was very pleased.
This article is part of the Shades of Dubuque series, sponsored by Trappist Caskets, hand-made and blessed by the monks at New Melleray Abbey.