SHALOM SPIRITUALITY CENTER
ShalomRetreats.org
Shalom Community Wellness Fair – Saturday, Jul. 8 @ 10 AM-2 PM
Join us for Shalom's 1st Annual Wellness Fair! Come and visit with local community vendors specializing in all facets of wellness. Enjoy live music, a local food truck, giveaways, a raffle, and more! This event supports the Dubuque County Watersheds and the Sister Water project. Free admission; no registration required.
Day of Self-Renewal – Friday, Jul. 14 @ 9 AM-4:30 PM
A day just for you to relax and recharge! This day offers a group guided meditation, a private guest room, delicious lunch, access to our chapel and labyrinth, and a choice of relaxation services. Enjoy a quiet reading space, nap in your private room, walk our beautiful grounds, or have peaceful prayer time in our serene chapel. There is a $40 non-refundable deposit required when registering.
Meditation and Music: Sound Healing – Monday, July 17, 6:30 PM–7:30 PM
A wonderful meditative and healing session.
Lunch and Renew: Chair Yoga – Wednesday, Jul. 19 @ 11:30 PM-12:30 PM
July theme: Easy Summer Days! Yoga reminds us to be aware, slow down, and enjoy! Explore several aspects of balance, including breath, physical, and effort/ease, with gentle chair Yoga followed by a simple and delicious lunch!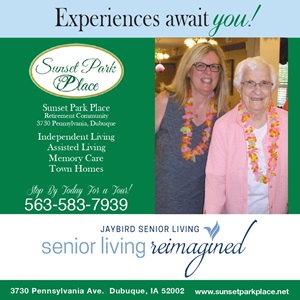 Four Essential B's: How Beliefs Affect Our Bodies, Brains, and Bonds Retreat – Friday-Sunday, Jul. 21-23
Facilitated by Anne Kertz Kernion, this retreat explores several areas of the intersection of spiritual practices and our health and well-being using multi-media presentations and several forms of silent prayer and meditation. Anne frequently leads retreats combining the insights of neuroscience, positive psychology, and spirituality. Her academic background in these three areas allows her to demonstrate that each one recommends similar practices for boosting our overall well-being.
SINSINAWA MOUND CENTER
Sinsinawa.org/moundcenter
Sinsinawa Mound Market (on site) – Wednesday, Jul. 26 @ 4 PM-7 PM
Join for a summer market featuring multiple vendors! This is held at their farm at every fourth Wednesday through September. Some of the featured vendors are Collaborative Farmers, Sandhill Farm, and City Girl Farming, The Mound's Farm, Sinsinawa Bakery, and the Sinsinawa Book & Gift Shop.
Sinsinawa Mound Center is once again open to visitors and guests. View a list of upcoming events online or by calling (608) 748-4411.