SINSINAWA MOUND CENTER
Sinsinawa.org/moundcenter
Learn more about offerings at Sinsinawa Mound Center online or by contacting Arrangements at (608) 748-4411. Please check their website for current COVID protocols.
Sinsinawa Art Gallery: Fusion: An Exhibition of Teacher and Student Glass Art Work (on site) – Apr. 2-Jun. 2 @ 8 AM-7 PM (daily)
Glass artist Barb McKinlay has been creating glass art designs since 2011. She owns her own studio and displays her work in specialty gift and museum stores and art galleries across the United States. The students created their pieces in a class with McKinlay at Sinsinawa in March. They designed a bowl, plate, or tray using pieces of cut glass, pebbles, stringers, and noodles. Come view their creative works.
Yoga Retreat: The Interaction of Prayer with Meditation (on site) – Saturday, Apr. 2 @ 9 AM-5 PM
Join Denise Edenhofer, owner of Keepin Fit in Wausau, WI, will lead a day of combining ancient practices of Hatha yoga, praying, and meditation. Through free-flowing discussion, we'll explore why we sometimes pray half heartedly as we move through life, if these prayers are heard, and do they matter. Then there is meditation. Edenhofer will assist participants in discovering these answers—all while practicing yoga!
Book Discussion: The Seed Keeper (Zoom) – Tuesday, Apr. 5 @ 7 PM-8:15 PM
Eric Anglada will lead discussion of Diane Wilson's newest book, The Seed Keeper. Wilson writes about a Dakota family's struggle to preserve their way of life and their sacrifices to protect what matters most. This is a story of reawakening, of remembering our original relationship to the seeds and, through them, to our ancestors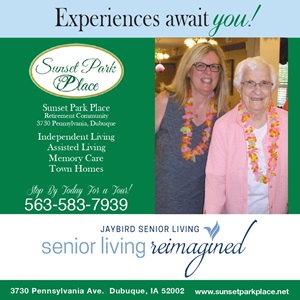 Julien Dubuque and the Meskwaki (Zoom) – Tuesday, Apr. 19 @ 7 PM-8 PM
Julien Dubuque and the Meskwaki (Fox) lived and worked together to forge a center for fur trading and lead mining in the upper Mississippi River valley in the late 18th and early 19th centuries. Since very little written documentation exists about Julien Dubuque, especially his relations with the Meskwaki, one must sort through the legends and stories passed down through generations. This presentation will provide the bits and pieces of documented evidence as well as the legends so the viewer can better understand why so much of history remains a mystery.
Legacy of Agriculture at Sinsinawa: 175 Years of Farming, 1847-2022 (on site) – Friday, Apr. 22 @ 6 PM-7 PM
Farming has been a way of life at Sinsinawa Mound since 1847 when Father Samuel Mazzuchelli, OP, founded the congregation of Dominican Sisters of Sinsinawa. Laurana Snyder, Sinsinawa Mound horticulturist and farm coordinator since 2021, will walk participants through the past legacy of farming at Sinsinawa and explore where the future of farming is taking us. Be prepared to spend time outdoors.
Canvas Painting: Spring Bouquet (on site) – Tuesday, Apr. 26 @ 6 PM-9 PM
Dubuque artist Sarah Barnes will guide participants in painting a bunny on wood. People of all skill levels are welcome to attend, and painters can add their own personal touches. Materials will be provided.
Sacred Land-Wild Church: May Day (on site) – Saturday, Apr. 30 @ 2 PM-3:30 PM
This outdoor, ecumenical gathering is centered on honoring sacred land and sacred time. Our gathering draws on Celtic spirituality and its calendar, as well as the growing Wild Church and Forest Church movements. Sinsinawa Mound Center's Ecological Programming Coordinator Eric Anglada will facilitate.