MISSISSIPPI ABBEY
MississippiAbbey.org
Meditations from Mississippi Abbey
Ongoing (Virtual)
In these uncertain times, we are subject to anxiety and stress unrelated to our normal life. The Sisters of Mississippi Abbey are bringing words of comfort and assurance to give you hope in this unusual season. Sign up for emails to be notified of new postings.
SINSINAWA MOUND CENTER
Sinsinawa.org/moundcenter
Sinsinawa Mound remains closed to the public for an indefinite period of time for all concerts, meetings, and tours. Many retreats, workshops, and prayer services have been either moved to a virtual. View a list of upcoming events at Sinsinawa.org/moundcenter.
Holy Week and Easter Services – Thursday-Sunday, Apr. 1-4
The Dominican Sisters of Sinsinawa invite the public to worship with them virtually as they pray and celebrate the Paschal Feast. Those unable to view the livestream can watch an archived video.
Pause: A Season to Breathe: Season of Hope – Saturday, Apr. 10 @ 10 AM-12 PM
Like the seasons of Earth that shift and change in nature, our lives of faith are also cyclical and invite us to pause, breathe into, and appreciate the season. This is the last of our four-session virtual micro-retreat that invites participants to be attentive, compassionate, pause, and appreciate each faith-based season as it mirrors the natural changing cycle of seasons. From the ordinary time of now through the anticipated promise of hope, these sessions will be both reflective and engaging.
Native American Book Discussion Series: Gathering Moss – Tuesday, Apr. 13 @ 7 PM-8:15 PM
Winner of the John Burroughs Medal Award for Natural History Writing.
Spirituality for Everyday Living: The Illusion of Control – Saturday, Apr. 17 @ 10 AM-11 AM
During these challenging and extraordinary times, we may find that our sense of spirit seems short lived and out of our reach. In keeping with the theme "Spirituality for Everyday Living," please join us as Steve Ellsworth briefly explores with us concepts related to control and surrender.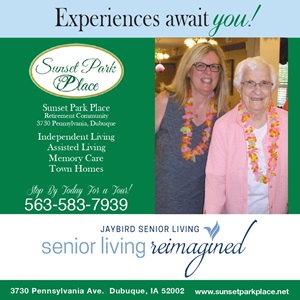 Catherine's Tapestry of Prayer – Saturday, Apr. 24 @ 10 AM-12 PM
Prayer is like plunging into the sea. This is just one of the images Catherine of Siena uses to describe prayer. She weaves a rich tapestry of concepts and images to invite us into a deeper prayer life. In our time together, we will explore some of her images. Sister Kathleen Flood, OP, presents.
Black Elk and Healing Colonialism – Wednesday, Apr. 28 @ 6:30 PM-8 PM
Join Maka Black Elk and Damian Costello as they delve into the life and possible canonization of Lakota holy man, Nicholas Black Elk; what it means to be both Lakota and Catholic; as well as paths to healing from the trauma of colonialism, especially boarding schools.
While the Mound is closed to visitors, Sinsinawa Bakery remains open for online ordering at Sinsinawa.org/bakery and Sinsinawa Book & Gift Gallery is available for online purchases at Sinsinawa.org/giftgallery. Customers can also place orders by calling (608) 748-4411. Items can be shipped or customers can arrange for curbside pickup between 10 AM and 4 PM, Monday through Friday.
SHALOM SPIRITUALITY CENTER
ShalomRetreats.org
Discover Nature's Secrets – Wednesdays, Apr. 7, 14, 21, 28 @ 1:30 PM-2:30 PM
Deepen your connection to mother earth with this four-week program. Each week, Earth Whispers sisters Sue and Felecia will open one mystery box during this live Zoom event. The contents remain a closely guarded secret and there is only one way to find out what is in the box, by reserving your place in this workshop. Discover what Earth is whispering to you during this period of time in history.
Scripture In Times of Disruption – Wednesdays, Apr. 7, 14, 21, 28 @ 7 PM
We are currently living in a time in which we are experiencing disruption in every aspect of our lives and in every nation on earth. The Scripture in Times of Disruption series offers an opportunity for people to encounter the Bible anew and consider its connection to their own lives. Sr. Sarah is a scripture scholar with a PhD from Graduate Theological Union in Berkeley and an MA from Catholic Theological Union. She has served as an adjunct professor at Loras College and Wartburg Theological Seminary.
Psychology and Spirituality of Thomas Keating – Friday-Sunday, Apr. 16-18
"Centering Prayer," now practiced by thousands around the world, is a result of Trappist Monk Thomas Keating's effort to renew contemplative practice in the Christian tradition. Recognizing his psychological and spiritual underpinnings of the Christian life, this retreat focuses on a renewed contemplative attitude, both personally and communally. The interface with Jungian psychology is woven throughout the reflections for prayer and conversations.
Faith Writers: Monthly Writer's Group – Tuesday, Apr. 20 @ 6:30 PM-8 PM
Monthly writer's group allows time to share up to two pages of writing with an opportunity for feedback and critique from other members.