MercyOne Eastern Iowa is taking its circle of care on the road with the launch of a mobile medical unit. Housed within a 31-foot RV, the handicap-accessible mobile medical unit includes two full exam rooms, a waiting area, bathroom, air conditioning and solar panels and a power awning. It will transport a dedicated team of MercyOne caregivers who will provide services to people with limited access to health care, including those with physical and financial barriers in urban and rural communities in the region.
MercyOne Eastern Iowa includes MercyOne Clinton Medical Center, MercyOne Dubuque Medical Center, MercyOne Dyersville Medical Center, MercyOne Elkader Medical Center, Guttenberg Municipal Hospital, an affiliate of MercyOne, and several primary and specialty care locations.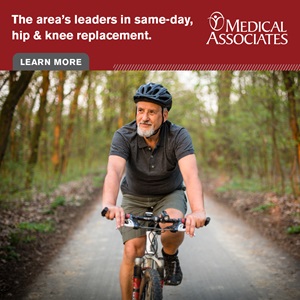 Services offered through the mobile medical unit include:
COVID-19 vaccinations and boosters
Influenza vaccinations
Brain health education, screenings, prevention and resources
Assessing blood pressure, temperatures and blood sugar
Identifying risks for hypertension, stroke, diabetes, cancer and infections
Identifying and addressing barriers to accessible health care for underserved or uninsured community members
For more information about the mobile medical unit, visit MercyOne.org/dubuque.