UnityPoint Health – Finley Hospital recently completed its first Shockwave Intravascular Lithotripsy (IVL) procedure for patients with severely calcified coronary artery disease. The new technology allows physicians to break up plaque and calcium – using sonic pressure waves – so that the artery can be safely expanded, and blood flow is restored avoiding complications.
Finley Hospital is the first hospital in Dubuque to offer this procedure.
"The cardiology team at Finley Hospital is dedicated in our commitment to give our patients access to the latest cardiovascular innovations to treat heart and vascular disease", said Dr. Tauseef Khan, MD, Director of Cardiovascular Medicine at Finley Hospital. "Finley is pleased to offer the newest and most advanced technology for our most complex heart care patients."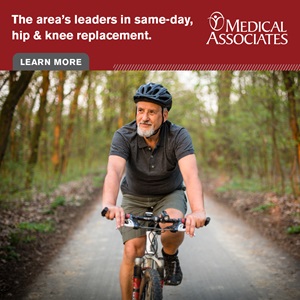 The first patient was Arlene Petsche, a 91-year-old woman who had a lack of blood flow to her left foot resulting in severe ulcers, putting her at risk of amputation of the lower leg. After an evaluation by vascular surgery, she was referred to Dr. Khan who determined she was a candidate for this new procedure. A previous attempt at restoring blood flow was unsuccessful due to severe calcification and small vessels.
Dr. Khan performed the procedure twice, first following the artery from the groin to a little past the knee, utilizing shock wave balloon for severely calcified totally blocked arteries and then both from the groin and foot simultaneously, in order to further improve blood flow to her foot. Arlene continues to follow up closely at the Wound and Hyperbaric Center at Finley Hospital.
For important safety information regarding this new treatment, please visit UnityPoint.org/Shockwave.