by Teri Link
Ask any Dubuquer who has been around awhile what restaurant they choose when celebrating a special occasion, and chances are they'll say Timmerman's. Timmerman's Supper Club has been a destination restaurant for the tri-states for over 60 years.
The striking mid-century modern building sits high atop a bluff overlooking the Mississippi River. Just beyond the 200 foot-long wall of west facing windows, nature provides nightly entertainment in the form of a breathtaking sunset. There's not a bad seat in the house when the orange and red rays from the setting sun bathe the dining room in their warm glow.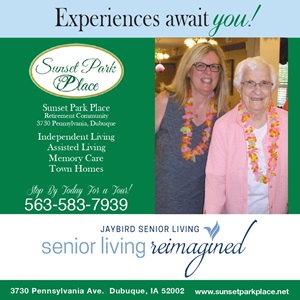 Timmerman's Supper Club was opened in 1961 by Bob and Helen Timmerman. The large, open dining room is adorned with traditional supper club touches such as heavy damask curtains, floral carpets, and white linen tablecloths.
To read this and other premium articles in their entirety, pickup the November 2022 issue of Julien's Journal magazine. Click to subscribe for convenient delivery by mail, or call (563) 557-1914. Single issues are also available in print at area newsstands and digitally via the Issuu platform.