With children playing outdoors, especially those between infancy and 12 years old, the chance for injuries increases, which is why it is important to keep safety top of mind this summer.
In 2021, UnityPoint Health – Finley Hospital's Emergency Department responded to two near drowning situations not involved with the river, but with local water parks or pools (public or private). To keep children safe in the water this summer, it is important for proper supervision to be maintained at all times, in addition to wearing properly fitted life jackets or floatation devices.
Additionally, there were 25 incidents of slipping, tripping, stumbling, and falls that Finley's Emergency Department provided treatment for. This included both indoor and outdoor settings. To prevent this type of incident, children should wear properly fitted footwear and be appropriately dressed for activities. If children are playing, walkways should be cleared and trip hazards should be avoided, for both the safety of the child and parent.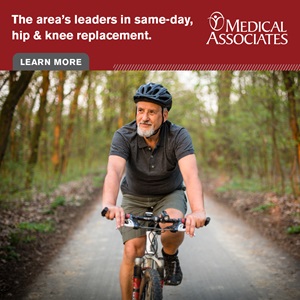 A few other common types of childhood injuries treated at Finley Hospital's Emergency Department in 2021 include bike and land transport (i.e., car or ATV) accidents, exposure to animate mechanical forces (i.e., accidental hit, strike, kick, twist, bite or scratch by human or insect).
If the unavoidable happens and someone is injured, please properly evaluate which care location, Emergency Department or Urgent Care, would be best for your situation. The Emergency Department should be used for incidents that have resulted in open fractures, severe lacerations (cuts), poisoning, head injury, choking, and loss of consciousness.
Urgent Care should be used for minor injuries, non-life-threatening allergic reactions, sprains, strains, rash or skin infection, and insect or animal bites. To learn more about where to go for care, visit UnityPoint.org/care.