While everyone was worried about the COVID-19 pandemic, Beth Ernzen was grateful that the pandemic gave her the opportunity to experience her cancer journey with the privacy and special attention she needed.
A few months before her annual physical, Beth felt a lump on her breast. Although it was highly unlikely that at the age of 35 Beth would be diagnosed with breast cancer, her primary care physician scheduled her for a mammogram and ultrasound. After getting her exam and biopsy results, Beth was diagnosed with invasive ductal carcinoma, triple negative breast cancer.
During the height of COVID-19 and the heightened prevention procedures, Beth couldn't count on in-person visits from family and friends to help her through this journey.
However, she found comfort with the team at the MercyOne Dubuque Cancer Center. Beth says the state-of-the-art facility made her treatment feel like a great experience and the colleagues at the cancer center went above and beyond to make her feel comfortable.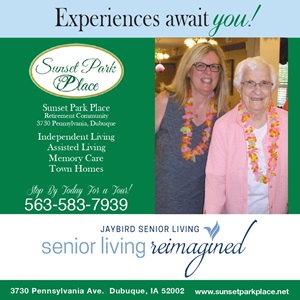 "When you have cancer, you have cosmetic changes like losing all your hair and your fingernail beds die. The cancer center is able to make the experience a peaceful and inspiring one. You don't want to keep receiving cancer treatment, but you don't want to stop seeing these amazing people that treat you like their number one priority."
"They connected me to a dietitian, cancer psychiatrist and all the specialists I need to help me through this process, who are able to visit me right there in the cancer center. I can't imagine going anywhere else. I felt like I was receiving the best treatment and the best service I could have possibly received."
The term triple-negative breast cancer indicates the cancer cells don't have estrogen or progesterone receptors (ER or PR) and don't make any or too much of the protein called HER2. The cells test "negative" on all 3 tests, therefore named triple negative.
Beth's treatments were completed in December 2020, and she has regular scheduled check-ups every three months with Oncology and every six months with Radiology Oncology. Beth recently attended her two-year post chemotherapy check-up and the imaging of her breast tissue were normal for the second year in a row.