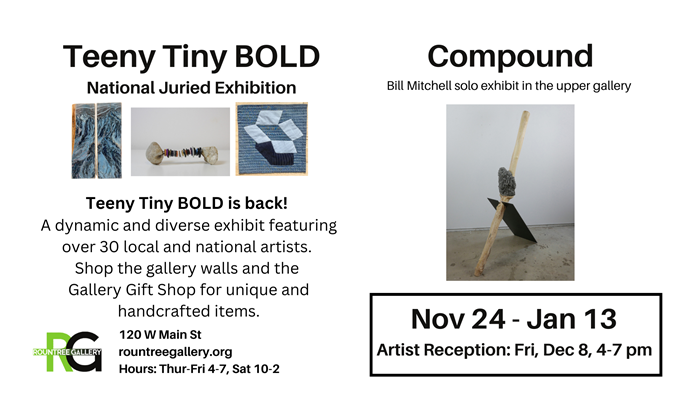 Rountree Gallery announces the return of "Teeny, Tiny, BOLD" – the annual juried small works exhibit, highlighting the power in the compact. Artists from the US and territories were invited to apply and explore ideas of compression, focus, scale, the intimate and what gives impact and meaning through a restrained format. All artwork is less than 12" in any direction. The exhibit features 31 artists from across the US with over 40 works of art, and will be on display Nov 24, 2023 through Jan 13, 2024.
"Teeny, Tiny, BOLD" is juried by artist Margie Crinerwho builds miniature narratives inside abstract sculpture. Criner's art is intended to offer room for others to insert their own stories. Criner lives in Chicago, IL and has exhibited her work in galleries, art centers and museums throughout the United States.
There are two receptions during this unique exhibit:
Artist Sunday on Sunday, November 26 from 11 – 2. Shop the gallery walls and gift shop to give a special, unique and handcrafted gift this holiday season
Artist Reception on Friday, December 8 from 4 – 7 pm
For more information on "Teeny, Tiny, BOLD" visit Rountreegallery.org.