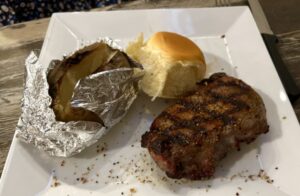 Some restaurants are well known for the awards they receive, the culinary stars they employ, or some exotic menu items they serve. Eichman's is not one of those. It's well known because the restaurant has been doing the same thing for decades, and they do it well. They pride themselves on being locally owned with an all-American menu. If you're in search of a solid, lick-your-fingers meal in a comfortable and down to earth location, check out this diamond in the rough.
The location is a bit of a drive if you are in Dubuque, but not hard to find. There's a gas station and convenience store on the other side of the building and plenty of parking. This seems to be more of a classic American Roadhouse, rather than a Supper Club or restaurant you'd find in town. Traditionally, a Roadhouse is a smaller mixed-use building typically built near a major road in a sparsely populated area that services passing travelers, providing food, drinks, fuel, and parking spaces to guests. Eichman's is this as well as a gathering place for locals in search of a great meal or drinks.
To read this and other premium articles in their entirety, pick up the December 2023 issue of Julien's Journal magazine. Click to subscribe for convenient delivery by mail, or call (563) 557-7571. Single issues are available in print at area newsstands and digitally on JuliensJournal.com.