by Danielle Phillips
The Dubuque Chorale was established in 1971, with its purpose being "to study and perform the great choral masterworks with orchestra." It's no surprise, then, that the Chorale's first season under Director Dennis Williams saw them performing Handel's Messiah and Haydn's The Creation, two of the most renowned works for chorus and orchestra in musical history. And what better way to celebrate the Dubuque Chorale's 50th Anniversary than with the return of favorites from the past? Musical favorites, yes, but also favorite people!
That's right, folks! The Dubuque Chorale turned 50 last year, and an anniversary celebration is long overdue! For the occasion, previous Directors Dr. Bob Demaree (2009-2018), Fran Vogt (2006-2009), and Founding Director Dennis Williams (1971-2006) will join Artistic Director Dr. Amanda Huntleigh (2018-present), Associate Director Than Chesher (2019-present), and Children's Choir Director Karmella Sellers (2014-present) to lead the Chorale, Cadenza, and the Dubuque Chorale Children's Choir for their 50th Anniversary Concert. Each director will conduct music related to their tenure with the Chorale in a program including time-honored classics (like selections from Messiah and The Creation) in addition to more contemporary pieces.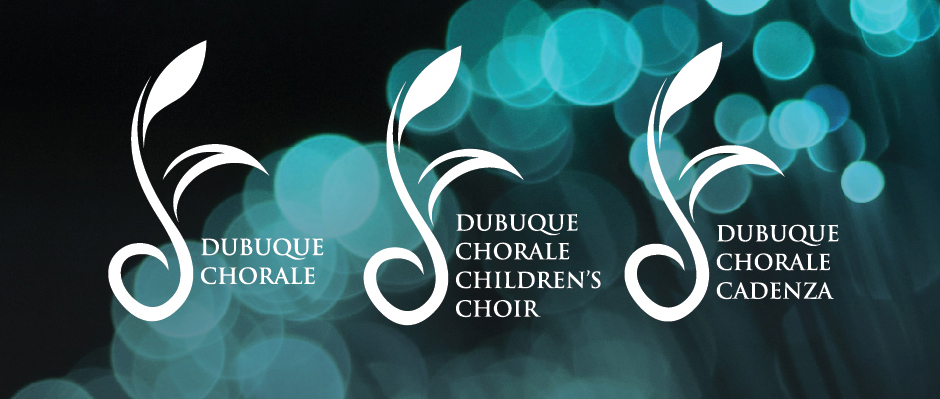 "There're a lot of different things I like about this program," said Chesher about the upcoming concert. "The Haydn I'm conducting [from The Creation] is fun – if you all get the chance to conduct a Haydn, take it! There are some [selections] that just have this great, uplifting, easy singable melody that everyone can really come away [with]. We're singing a few 'choral hits,' as it were, that everyone knows, and even if you don't know it, you'll certainly recognize it."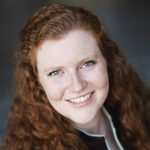 "My favorite piece right now in the concert is the second movement of Amendment: Righting Our Wrongs," Huntleigh remarked. "It's called All Men Are Created Equal,' and it starts with this really driving rhythmic section, and then we have some back-and-forth…it just makes it really fun to rehearse, and really fun to sing."
Amendment: Righting Our Wrongs, a consortium-commissioned piece with music composed by Melissa Dunphy, provides settings of various American political texts and will be featured in the concert's second half. The Dubuque Chorale co-commissioned Amendment along with eleven other choirs for the centennial of women's suffrage, which was two years ago, so they're eagerly awaiting the chance to perform it at last!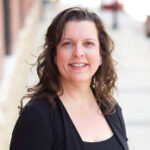 Asked about the music the Children's Choir is performing, Director Karmella Sellers replied, "I think the [piece] that moves me the most and helps me teach the kids about line and contour is 'Inscription of Hope.' It's a setting of a poem that was found on a wall in Cologne, Germany, during the Holocaust. It's about hope, but the setting is just absolutely beautiful and I think the audience will be moved, not only by the words, but by the kids' rendering of it."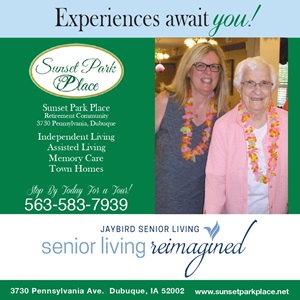 But inspiring music and guest directors aren't the only exciting highlights in store! Performing with orchestra was fundamental to the Dubuque Chorale's original mission, so naturally an instrumental ensemble will join them for the 50th Anniversary Concert.
"We're hiring an orchestra so that we can do excerpts from each decade of our existence with symphony," Huntleigh stated.
Chesher continued, "I think with all the pieces, when you're singing with an orchestra, that's also a fantastic feeling, and having that opportunity to sing with fantastic musicians across all the different musical performance media… is just a really great experience."
And the experience–of choral singing, of performance, of community, of musical creation–is what the Dubuque Chorale is really all about.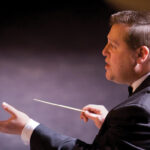 "To me, [it's] in the phrase – it's that there's community," said Demaree. "The power of a community choir is that mostly non-professional musicians love singing and lifelong learning so much that they commit to it with joy and humility. This sends an amazing message on two levels: first, that art is vital to our lives year after year; and second, that continuing to learn and grow should never stop when one's formal education ends."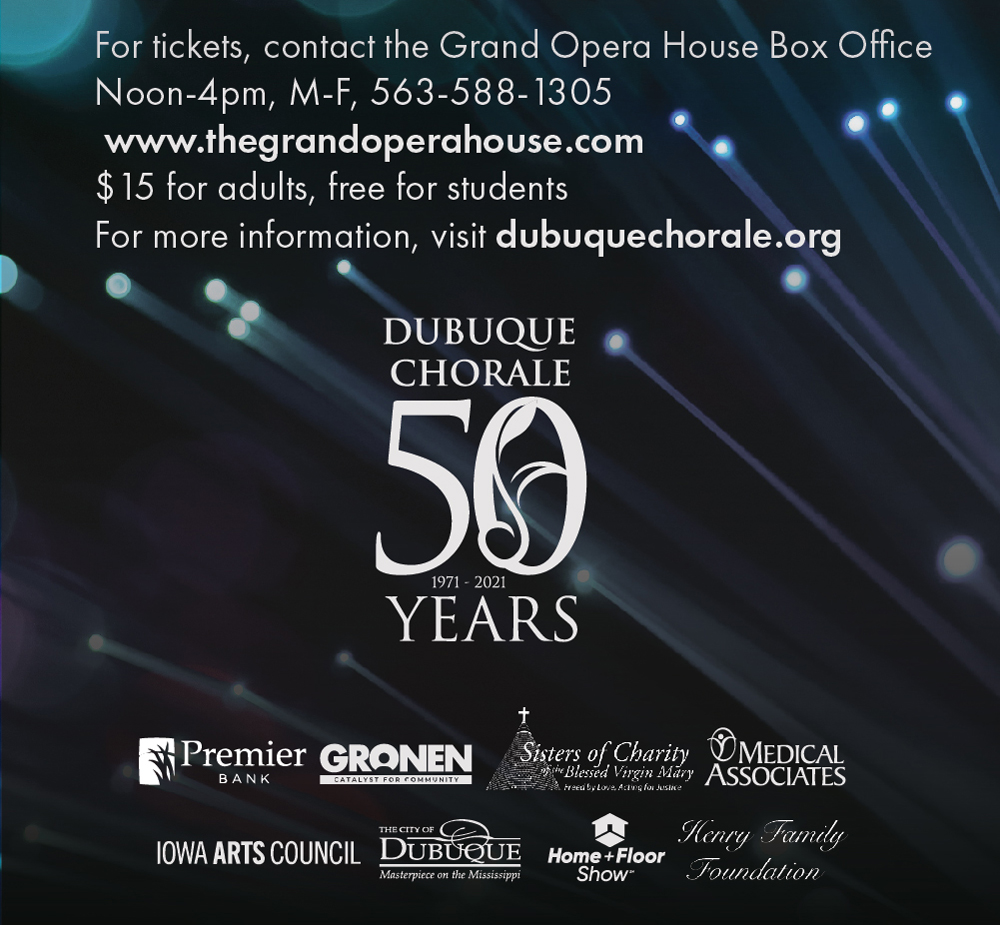 Experience the Dubuque Chorale's 50th Anniversary Concert on Saturday, May 14 at 7:30 PM, or Sunday, May 15, at 2 PM, at the Grand Opera House (135 W. 8th St, Dubuque). Adult admission $15; students free of charge.
For more information, visit DubuqueChorale.org.