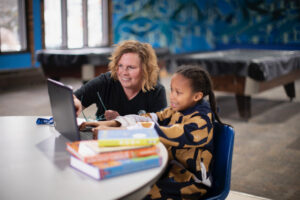 Let's say that you love Dubuque and the surrounding region and want it to continue prospering well into the future. But how do you help that happen? Knowing which nonprofit to fund or which cause to support can be overwhelming as there are so many options, and today's needs may not be as relevant in the future.
Enter the Forever Fund at the Community Foundation of Greater Dubuque. This fund is a vehicle to allow the Foundation to respond to both challenges and opportunities as they arise and is designed to be an investment resource for the region's future.
"The Community Foundation has community knowledge, relationships, data, and knows the issues," says Foundation president and CEO Nancy Van Milligen. "The Forever Fund allows the board to use this information to make thoughtful decisions where they can have the greatest impact."
The Forever Fund is designed to create an available pool of funds that can be deployed immediately in the case of a disaster or when a unique opportunity presents itself. It provides the resources to enable the board to be innovative and responsive as it tackles issues in the community.
To read this and other premium articles in their entirety, pick up the December 2023 issue of Julien's Journal magazine. Click to subscribe for convenient delivery by mail, or call (563) 557-7571. Single issues are available in print at area newsstands and digitally on JuliensJournal.com.