Camp Courageous volunteers have opened a Winter Sale fundraiser in the camp's main lodge to help benefit the Camp throughout the winter season. Unlike the Camp's Manchester Garage Sale, which is now open year-round in Manchester, this sale is held at Camp Courageous. The lodge has been filled with new to lightly used items of all types that will be sold with proceeds going to the camp.
The Camp Courageous Winter Sale offers items of all types that are sold at bargain prices. There are racks of clothing from youth to adult sizes, including coats, shirts, pants, and more. Housewares, wall decorations, holiday items, and furniture of all types, and more have filled the lodge.
A sale during the winter months had previously been held at Camp Courageous, but COVID concerns kept it closed for the past few years. This year, the sale is back through the help of all of the volunteers. New this year is a Facebook page for the Winter Sale.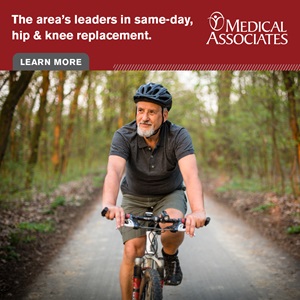 The Winter Sale will be open until early March on Monday through Friday from 9 AM until 4 PM. Every Wednesday it will be open from 9 AM until 6 PM and on the first Saturday of each month from 9 AM until noon. Donations are accepted of items to include in the sale (a list of items accepted can be found on the camp's website at CampCourageous.org/winter-sale.
Camp Courageous is a year-round recreational, respite care, and travel program for individuals of all ages with disabilities that is supported through donations. It is through fund raisers, such as the Winter Sale, that the Camp can continue to serve nearly 10,000 individuals with disabilities each year.