Yes, folks, it's time again for the wearing of the green. No, it's not St. Paddy's Day, but it's the next best thing: the Irish Hooley Music Festival in Dubuque. Save August 24, 2019 to attend the festival at the Star Brewery to celebrate Irish heritage, culture, and, of course, music.
Robert McCullough, president of the Hooley Board, is excited about this being the 15th year of the Hooley. "We are happy to have put this on for so many years. It's taken on different forms and different locations over that span of time, but we've settled into a consistency here at the Alliant Amphitheater."
Besides the high-quality Irish and Scottish bands which will be entertaining the audience into the evening, someone will win a trip to Ireland. Tickets are $50 each; however, only 250 tickets will be sold, which increases the odds of winning. A drawing for a weekend stay at the Irish Cottage in Galena will also take place. A silent auction, run by the Ladies Ancient Order of Hibernians, will provide an abundance of items on which to bid.
The entertainment line-up for this year's Hooley begins with an opening march by the Ancient Order of Hibernians (AOH) and the Ladies Ancient Order of Hibernians (LAOH), followed by a Salute to Armed Forces Veterans. The Dubuque Fire Pipes and Drums will then set the musical mood with 30 minutes of Irish bagpipes and percussion leading up to the colorfully costumed dancers of the McNulty School of Irish Dance.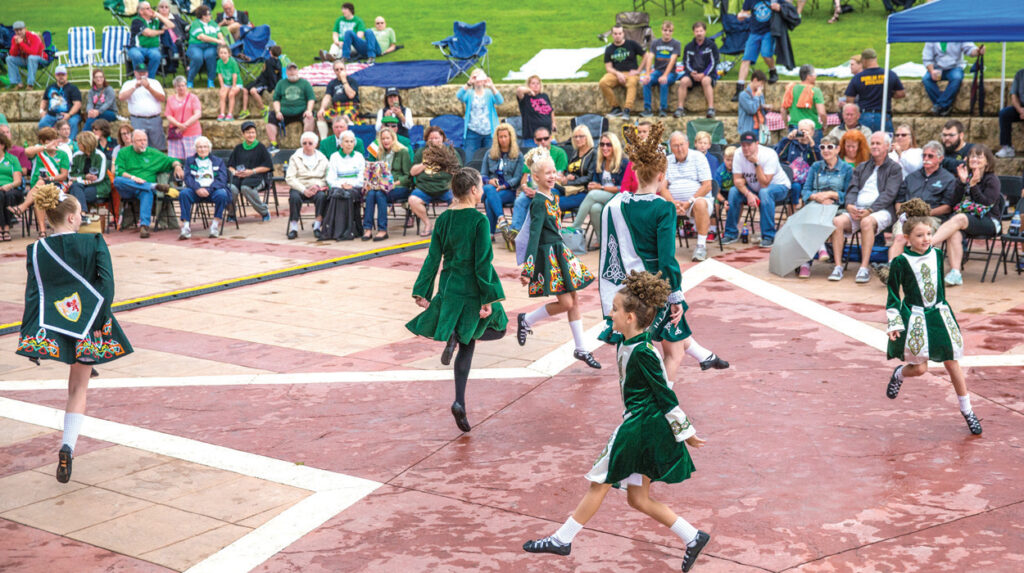 Center stage entertainment:
Skerryvore
Twice winners of Scotland's Traditional Music "Live Act of the Year" Award, Skerryvore have been on a meteoric journey that has taken them from the remote Isle of Tiree to international tours. They create a unique fusion of folk, traditional, rock, and Americana. Formed in 2005, the eight-member band marked their 10th anniversary in 2015 with a "Decade" concert at Mossfield Stadium, Oban, performing for 6,000 visitors from all over the world. The success of the Decade concert led to the creation of the band's own annual festival, Oban Live, which has now attracts over 10,000 attendees. Two-thousand seventeen saw the release of the single "Live Forever," which provided the soundtrack for the Scottish tourism promotional campaign "Wild About Argyll" and saw the single hit No.1 in the iTunes World Music chart. Two-thousand eighteen brought the release of Skerryvore's sixth studio album, accompanied by a global tour including a headline performance at the legendary Tonder Festival in  Denmark.
Connla
Connla is an exciting new band with strong traditional roots as well as global influences. Their sensitive and innovative arrangements of traditional and modern folk songs and tunes have earned them praise across the folk community. Band members inlude Ciara McCafferty (vocals), Ciaran Carlin (whistles), Paul Starrett (guitar) and siblings Emer and Conor Mallon on harp and uilleann pipes. Having met while studying Music at Ulster University, they quickly began performing together. They hail from the cities of Armagh and Derry. Visit Connla's website at Connlamusic.com.
Derek Warfield & The Young Wolfe Tones
Derek Warfield and The Young Wolfe Tones are bringing together traditional Irish ballads along with the energy and optimism of a new generation of Irish musicians. After spending nearly 40 years as founder/leader of the legendary Wolfe Tones (named after the 18th century Irish Revolutionary Theobald Wolfe Tone), Derek Warfield is revered as a singer, songwriter, historian, and entertainer in all parts of the world where Irish roots have been put down. The Wolfe Tones enjoyed phenomenal success with 13 best-selling albums with three number one hits. Since breaking away from the Wolfe Tones in 2001, Derek's solo career has yielded 11 albums to date, the most successful of them being On the One Road, The Bonnie Blue Flag and Let Ye All be Irish Tonight. With the The Young Wolfe Tones, the legend of Derek Warfield continues. Band Members include Derek Warfield (vocals, bodhrán, and mandolin), Damaris Woods (tenor banjo, ciarán cooney, guitar, and vocals), Cormac McGuinness (vocals) and Garry Gormley (bass and vocals). Visit Derek Warfield & The Young Wolfe Tones website for more information at TheYoungWolfeTones.com.
The Lads of Dubuque
Bringing back local favorites, The Lads will perform music celebrating their Irish and American roots. Featuring vocals, piano, guitar, whistles, and fiddle, The Lads play favorite Irish pub melodies, ballads, and rebel songs. Bring your thirst for fun and song and be prepared to raise your voices and bevies to all that is great about being Irish American. Band members include Kevin Walsh, Rob McCullough, Jim Mueller, Bill Thurm, Laura Calhoun, and Patrick Reidy
Ballyheigue
Ballyheigue is a six-piece band specializing in traditional instrumental and vocal Irish songs. Comprised of family members Jim, Allison, and Emily Ott with Rob McCullough, Seth Enz, and Carl Droessler, they have played at various locations around Dubuque and opened for the High Kings in 2016, We Banjo 3 in 2017, and Gaelic Storm in 2018.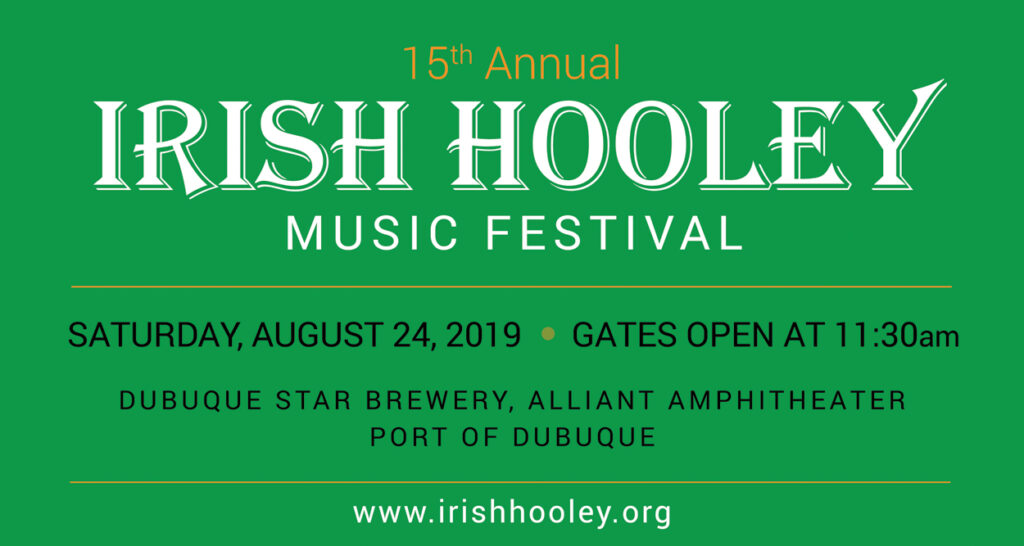 Tickets are $12 at the gate, with $2 off advance tickets which can be purchased at Shamrock Imports, Premier Bank, Family Beer & Liquor Store, Happy's Place, and Butt's Florist. The Hooley is free for children ten and under.
For more information visit irishhooley.org.
2019 Performance Schedule – Saturday, August 24, 2019
Dubuque Star Brewery, Port of Dubuque
11:30 Gates open
11:35 Opening March – AOH/LAOH
11:45 Salute to Armed Forces Veterans
12:00 Dubuque Fire Pipes and Drums
12:30 McNulty School of Irish Dance
1:15 Ballyheigue
2:45 The Lads
4:15 Connla
6:00 Derek Warfield & The Young Wolfe Tones
8:30 Skerryvore