University of Dubuque's 2019-2020 Live at Heritage Center Performing Arts Series promises to sparkle with an array of entertainment ranging from Broadway to stand-up comedy.
Coined "A Jewel of a Season," Live at Heritage Center's premiere selection of the finest performing arts attractions touring today provides the Dubuque community and beyond an arts and cultural enrichment experience.
"This season shimmers with the artistry represented by nearly 30 acts. The artists are the true jewels as their excellence shines brightly when they take the stage. We, as beholders of these beacons of talent, are blessed to be able to witness their performances," said Thomas Robbins, executive director of Heritage Center.

Check out these five reasons the 2019-2020 Live at Heritage Center Performing Arts Series is one you don't want to miss:
A Stellar Lineup. Highlights of the new season include RENT 20th Anniversary Tour, legendary jazz trumpeter Wynton Marsalis, the Grammy Award-winning Steep Canyon Rangers, and an off-Broadway unauthorized musical parody of the hit TV sitcom The Office.
Flexible Ticket Packages. Choose as few as seven of 16 Center Stage events through the Build-Your-Own Center Stage season ticket package to unlock discounts, priority seating, and other benefits. Those benefits include 25 percent off regular ticket prices for subscribers who choose 15 events. UD affiliates such as alumni, parents of current UD students, and local veterans and active military are eligible for even deeper discounts.
Family Fun. Center Stage subscribers can supplement with additional tickets or packages including the Family Series or B.I.T.E Size Series, which features more intimate theater productions. The Family Series offers a special Family 4-Pack subscription package at only $99 for a family of four to attend all four Family Series shows.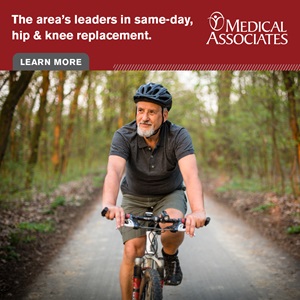 Multicultural Performances. Performances from Women of the World, Brazil's B2wins, the Arab-Jewish ensemble Shesh Besh, Russia's Siberian State Symphony Orchestra, and China's Golden Dragon Acrobats will take audience members on a multicultural journey around the world.
Engaging Experiences. Heritage Center strives to offer engaging experiences by supplementing many of the performances with talk backs with performers, meet-and-greets, live music, and more.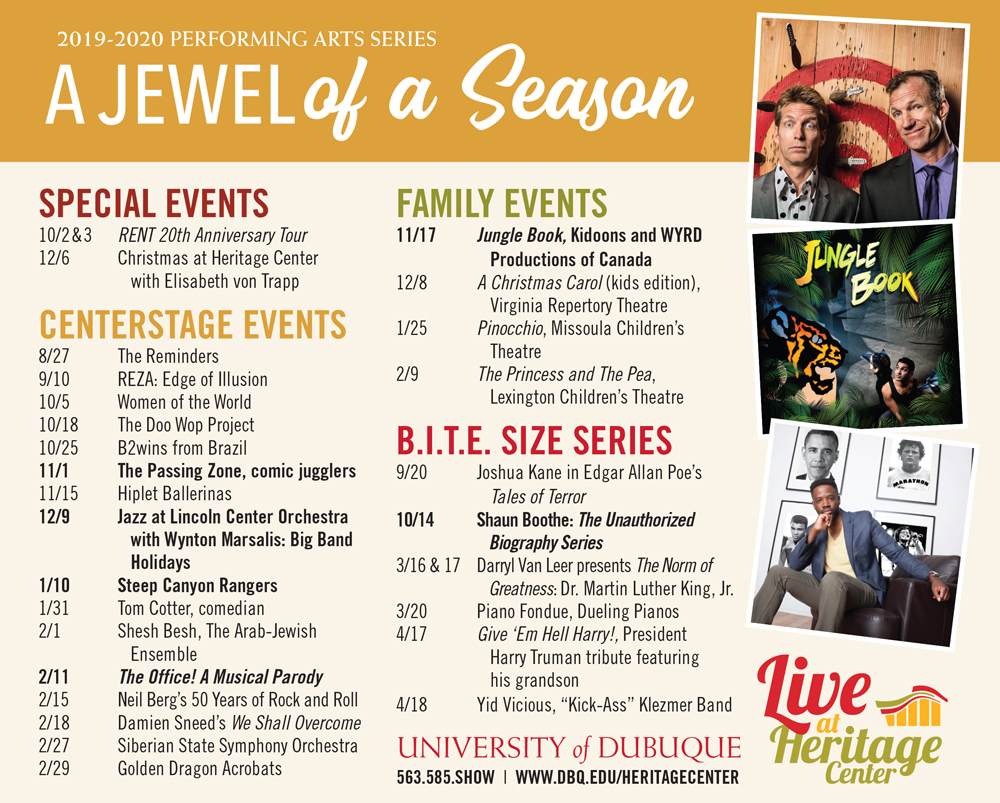 In its seventh year, Heritage Center has become an entertainment hub where patrons can eat dinner in the Cyber Café, get ice cream at Mike and Betty's Ice Cream Shoppe, or view art in the Bisignano Art Gallery before a live performance.
"I love that Heritage Center takes dinner and a movie to a whole new level. Attending a Heritage Center event is the perfect date night or night out with friends. With a wide array of events, there is something for everyone to enjoy," said Korissa Clark, office manager at Heritage Center.
Subscription orders are being accepted now. Individual tickets will be available for purchase beginning Thursday, August 1 at 11 AM at the Farber Box Office, Heritage Center, University of Dubuque, 2255 Bennett Street; by phone at 563.585.SHOW; or online at dbq.edu/heritagecenter. Farber Box Office summer hours are Monday through Friday from 11 AM to 2 PM Normal hours of 10 AM to 5 PM begin Monday, August 19.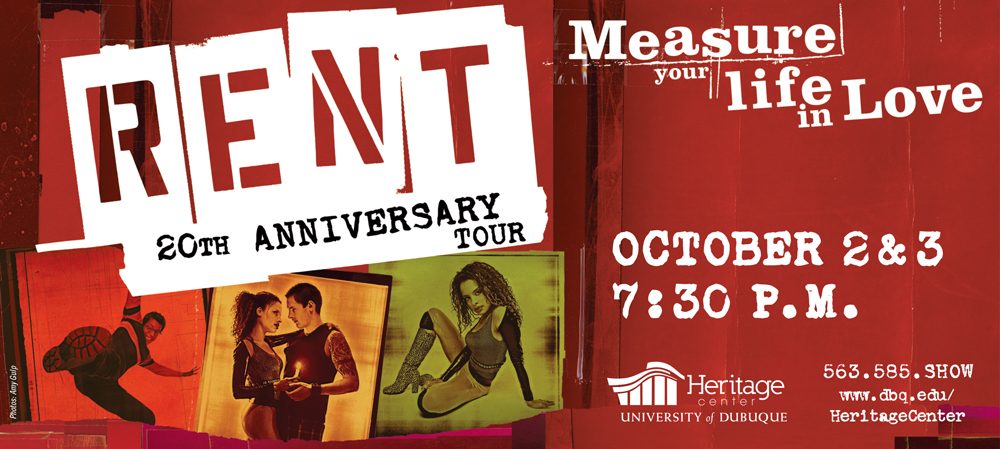 Heritage Center will host a customer appreciation day from 11 AM to 2 PM on Thursday, August 1. All Center Stage subscribers and anyone purchasing a ticket at the Farber Box Office that day will receive a $5 voucher redeemable for lunch or dessert during the customer appreciation event. There will also be live music by Todd McDonough from noon to 1 PM as well as door prizes.
"Much like the circle of life, our patrons complete the 'circle' of live performance. Without our audience members, a performance is not complete. The customer appreciation day is a small token of thanks for our audiences who play a huge role in our ability to make the Live at Heritage Center Performing Arts Series a reality," Robbins said.