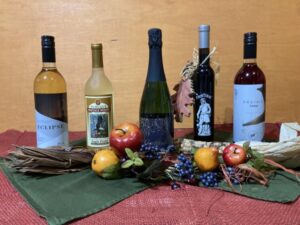 "As long as we have wine, everything will be fine!
Sips:
I so enjoy this time of year. Parties and gatherings happen as the cooler weather urges us inside to enjoy fires in the fireplace, warm beverages, and red wines! Thanksgiving is just around the corner, and it seems appropriate to offer ideas on wines for this special occasion. We are fortunate to have several nearby wineries so I thought it would be nice to feature regional wines for this November feast. Not only can we be thankful, but we help our local businesses be thankful as well.
As everyone gathers at the table, retrieve the bottle of 2020 Galena Cellars Gratitude (12.5% abv) sparkling wine from the refrigerator and pour everyone a glass. Can you think of a better way to begin a Thanksgiving dinner than with a glass of Gratitude? This is a wine made with Frontenac Blanc grapes from the Ryndak Ranch vineyard in Illinois. This was made in the Traditional Champenoise Method, where the wine goes through a second fermentation in the bottle. You'll get the taste of some delightful green apple, maybe some ripe pear and bubbles galore. Use this to toast to the fellowship and family around the table and all for which you have to be thankful.
To read this and other premium articles in their entirety, pick up the December 2023 issue of Julien's Journal magazine. Click to subscribe for convenient delivery by mail, or call (563) 557-7571. Single issues are available in print at area newsstands and digitally on JuliensJournal.com.