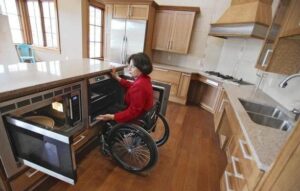 Many older adults tend to be fiercely independent and dedicated to community and tradition. And it is these values that tend to make us want to age-in-place; staying in our current homes through dedication, and love for the homes that have given us years of shelter and have been a part of the family.
As a Senior Real Estate Specialist, I have the unique vantage from hearing from people that are ready to break free from the bonds with their current home and find a better abode. The common phrase that I hear that tries to describe this is "down-sizing." But down-sizing doesn't adequately describe what these folks are after; it's not a change in size, it's a change in design – a design that incorporates Universal Design.
To read this and other premium articles in their entirety, pick up the December 2023 issue of Julien's Journal magazine. Click to subscribe for convenient delivery by mail, or call (563) 557-7571. Single issues are available in print at area newsstands and digitally on JuliensJournal.com.