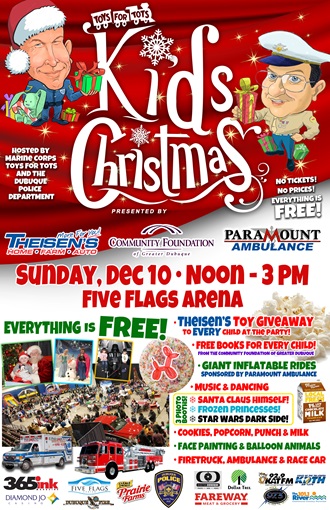 Presented by Theisen's, The Community Foundation of Greater Dubuque and Paramount Ambulance
Sunday, December 10, Noon – 3 PM
Five Flags Arena
The biggest, craziest party of the holiday season is back … it's for kids ten and under … and it's FREE!
Marine Corps Toys For Tots is excited to announce the 7th Annual Kids' Christmas Party presented by Theisen's Home • Farm • Auto, The Community Foundation of Greater Dubuque and Paramount Ambulance. Taking place on Sunday, December 10, from Noon to 3 PM, the Five Flags Arena will transform into a yuletide display of controlled chaos, as hundreds (and hundreds) of Tri-State youngsters converge for the biggest party around. And the best part is, it's all free!
The event is hosted by Marine Corps Toys For Tots of Dubuque and the Dubuque Police Department in memory of Police Chief Mark Dalsing. This event will be a fun, safe and festive chance for kids to play together, have a blast and go home with a few goodies along the way. This is not a charity event. It's for all kids of Dubuque, it just happens to be free!
The three-hour party will have fun holiday music, giant inflatable rides will return as will the Paramount Ambulance for kids to check-out in person. Kids will also climb aboard a real fire truck and see how Dubuque heroes do their jobs when they get to talk with real firemen and women. New this year is a real race car for the little ones to discover.
Especially exciting is the Theisen's free toy giveaway to every child with other surprise goodies giveaways as well. There is plenty for everyone, so there's no need to line up early or wait in a long line when you get there, we promise. You can go have fun and get your gifts later in the event. We won't run out!
Note that this is not part of the annual Toys For Tots toy distribution program. This is a bonus event, So if you need toy assistance you can still get that separately through Toys For Tots at Dubuquetoys.org.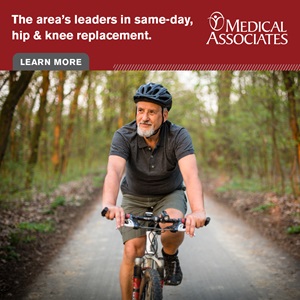 This year, the Community Foundation of Greater Dubuque once again joins Theisen's with the giveaways, only they will be doing free fun activity books and reader books for every child at the party.
And don't forget the photos! Get your photo taken with Santa and Mrs. Claus and download the pictures for free, courtesy of DigitalDubuque.com. This year Elsa, Anna and Olaf will return in front of a wintery palace backdrop. And Darth Vader is back again too with a fun photo-op. All photos will be available for free download online. You can also get your face painted and take home a balloon animal.
Plus free cookies, popcorn, milk and punch, thanks to the generosity of 365ink Magazine, Diamond Jo Casino, Fareway Stores, Prairie Farms Dairy, DigitalDubuque.com, Meyer Photography, Five Flags Center, Dollar Tree, the Dubuque Fire Department and Radio Dubuque.
Put it all together and you've got a kid party to beat all kid parties … and it's Christmas!
For more information contact:
Contact: Bryce Parks
Toys For Tots Coordinator
563-590-3840
Bryce@dubuque365.com