by Teri Link
What comes to your mind when you hear the word innovation? Is it the latest phone or gadget? Space travel or satellites?
Innovation is certainly where all of these things came from, but it's not a new concept. Humans have been innovating since the beginning of time, creating new methods of doing things to make our lives easier. The latest exhibit at the National Mississippi River Museum & Aquarium explores innovation as it relates to one of our greatest natural resources: the Mississippi River. Dubuque and other river towns were built next to the river in order to harness the power of the water, and because of the travel and transportation options it provided. While the river is (mostly) unchanged, continuing innovations have made the ways in which we utilize it radically different from when we started.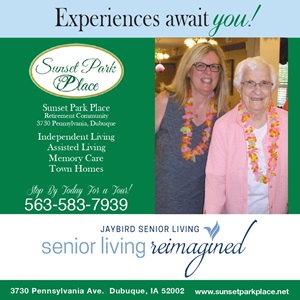 The new River of Innovation exhibit held its grand opening on June 11 with the addition of Innovation Currents and MakerSpace to the previously established Iowa Marine Engine & Launch Works. Together, the three sections of this exhibit aim to inspire and educate adults and children of all ages. With the help of many generous donors and dozens of passionate volunteers and staff members, the River of Innovation was created to spark the imagination of anyone who wants to understand innovation and its effects on our river towns.
To read this and other featured articles in their entirety, pickup the July 2021 issue of Julien's Journal magazine. Click to subscribe for convenient delivery by mail, or call (563) 557-1914. Single issues are also available in print at area newsstands and digitally via the Issuu platform.