by Teri Link
This August, Dubuque will play host once again to an event that truly celebrates the spirit of the Irish people. The Irish Hooley Music Festival takes place on Saturday, August 27th in the Alliant Energy Amphitheater in the beautiful Port of Dubuque.
You may be wondering what the word "hooley" actually means. A hooley is a day of festivities centered around dancing, singing, and general merriment in the traditional Irish fashion. Dubuque's version has all of those in abundance.
The day begins at 11:30 AM and goes until County Donegal native headliners Screaming Orphans belt out their last Irish tune. In between those times, live music, dancing, food, and drinks will be enjoyed by all. Local bands The Lads and Ballyheigue will take the stage along with colorful Irish dancers from McNulty School of Dance, and our very own Dubuque Fire Pipes and Drums. Rounding out the entertainment is Ian Gould, Tallymoore, and Derek Warfield & The Young Wolfe Tones.
Dubuque's Irish Hooley Music Festival has been a staple of our hot Iowa summer since 2005. Sponsored by many local businesses, it's always a well-attended event. The Hooley is organized every year by a volunteer Board of Directors, currently led by President Rob McCullough. Like many other volunteers with this event, Rob has been involved in the organization of the Hooley since it first began seventeen years ago. Not only has he been on the Board of Directors, but also is a member of both local bands, The Lads and Ballyheigue.
About the planning process, Rob says, "Each year seems to get a little easier as we go along. No one volunteer has more than they can manage, and together we can handle the requirements and not feel overloaded by the event."
Being as the Hooley runs all day long – from 11:30 AM to sunset (and beyond) – a lot of planning takes place for many months to make things run smoothly.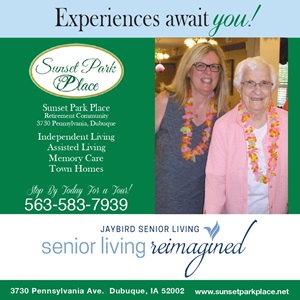 The mission of the Irish Hooley Music Festival is to promote Irish/Celtic music and culture in Dubuque. In addition to all of the joy and music the Hooley brings to Dubuque, this event also gives back. Every year a portion of the proceeds goes to a charity, the most recent being Research for the Kids, benefiting the University of Iowa's Children's Hospital Brain Tumor and Heart Research. So not only is the Hooley fun for all, but it's also good for the kids!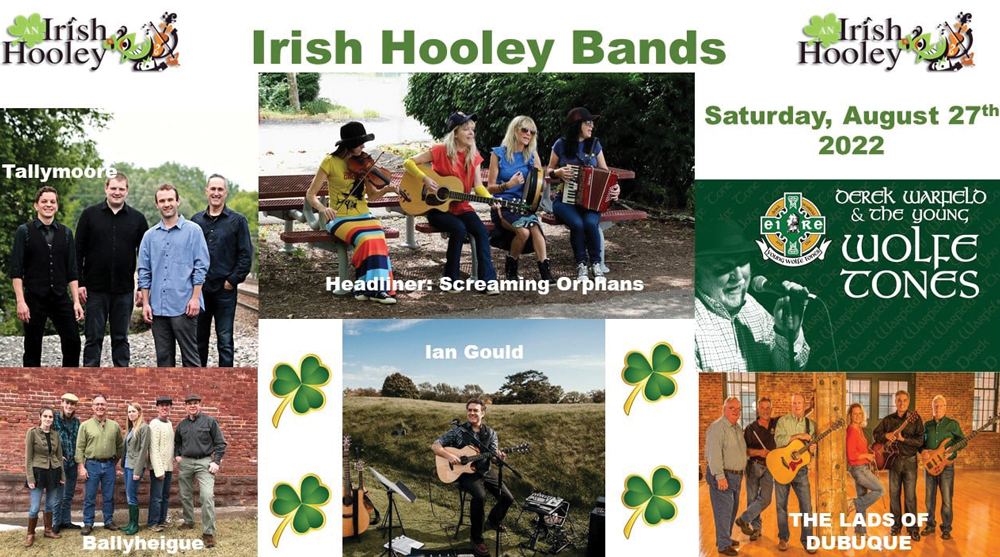 Tickets are just $12 if purchased in advance (see sidebar for locations), and $15 if purchased at the gate. Food from multiple vendors will be available along with several versions of the national drink of Ireland. As for the music, bagpipes and the Irish fiddle will be prominently featured. Although the wide variety of Irish bands will bring their own take on Irish and Celtic music, you will surely hear at least one version of "Danny Boy" and also "Finnegan's Wake."
The Port of Dubuque's Alliant Amphitheater is located just outside of the Dubuque Star Brewery building, which now houses Stone Cliff Winery. Adjacent to the beautiful River Walk, there are terraced seats built in, but a safe bet would be to bring your own lawn chair. Early in the day you may find a seat, but as the event gets rolling, it will be standing room only.
Irish fans of all ages will be decked out in their best Irish t-shirts, hats, beads, and buttons. Whether you are cheering for the dancers, clapping for the Pipes and Drums, or singing along with classic Irish tunes, this is a must-see event. Just like everyone is Irish on St. Paddy's Day, we're all Irish once again at Dubuque's Irish Hooley Music Festival.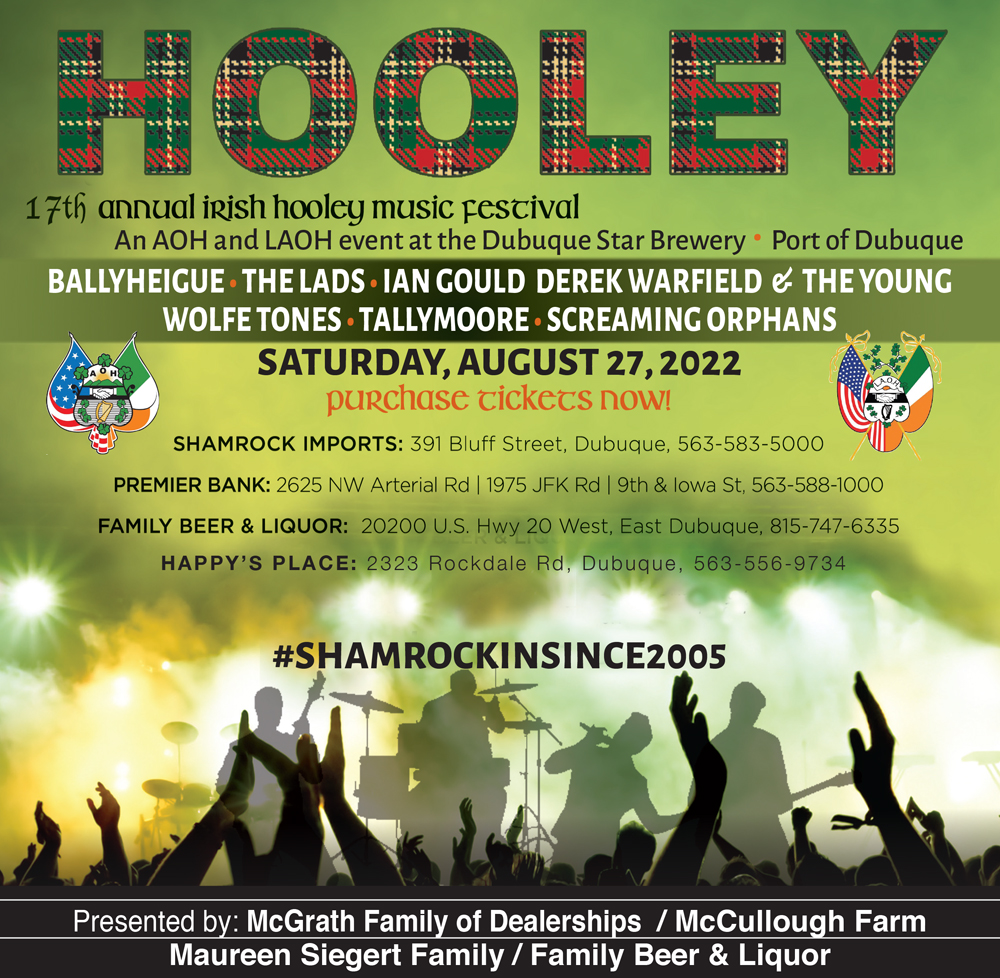 IRISH HOOLEY 2022
Date: Saturday, August 27
Times: Gates open at 11:30 AM
Location: Alliant Energy Amphitheater (Port of Dubuque), 510 East 4th Street, Dubuque
Tickets:
$12 in advance; can be purchased at the following locations: Shamrock Imports, Premier Bank, Family Beer & Liquor Store, Happy's Place
$15 at the Gate
Ages 10 and under are free
More at IrishHooley.org.