River Bend Food Bank, St. Stephen's Branch is a lifeline for many people in Dubuque and Jackson counties. By distributing food to 100 partner pantries, it helps combat food insecurity and ensure people can meet their basic needs. To support this work, it takes part in Great Give Day, the largest day of giving in Eastern Iowa. In 2022, St. Stephen's raised $4,000 in just 24 hours to help stock their partner pantries.
St. Stephen's is one of dozens of nonprofits that participate in Great Give Day each year. Hosted by the Community Foundation of Greater Dubuque, Great Give Day is a 24-hour online giving event with a simple goal: Inspire people to come together and give as much as possible to support local nonprofits. It is an opportunity for organizations to reach new supporters and compete for bonus prizes from local business sponsors that increase their total gifts.
"Our community shines on Great Give Day," says Peter Supple, the Foundation's director of nonprofit relations. "We appreciate everyone who contributes. Every gift makes a difference."
A growing event
This year, Great Give Day will be Wednesday, May 17th, and everyone can make gifts at GreatGiveDay.org from midnight through 11:59 PM. As in years past, participating nonprofits direct gifts to their endowment funds or toward specific programs and projects. Throughout the day, organizations compete for over $38,000 in bonus prizes sponsored by local businesses. Prizes are awarded for accomplishments like "most gifts in an hour" and "most first-time donors."
To help engage more people in this annual giving extravaganza, the Community Foundation is launching several new efforts. One of these is Great "Grub" Day. Participating local restaurants will donate 10% of their sales on Wednesday, May 17th to support nonprofits participating in Great Give Day.
The other is a celebration of nonprofits that will take place from 11 AM to 1 PM Wednesday, May 17th in Dubuque's Washington Park. Community members are invited to enjoy food trucks and music on their lunch break, while also learning about local organizations from representatives who will be in attendance. It's also a chance for people to learn more about Great Give Day and how they can easily make gifts online throughout the day.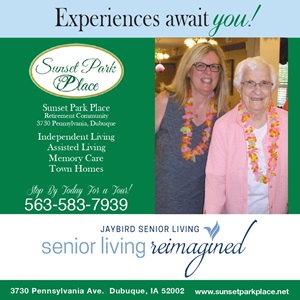 Region-wide generosity
The Community Foundation established Great Give Day 10 years ago as part of its work to strengthen nonprofits in the Dubuque region. Since then, it has raised more than $2.7 million for local organizations, including more than $347,000 in 2022. This year, the Foundation has set a fundraising goal of $500,000.
Behind the final tallies are additional outcomes that build strong nonprofits. Many organizations start endowment funds with the Foundation so people can give to them on Great Give Day. These funds are invested, continue to grow, and pay out each year to sustain nonprofits' work.
For donors, Great Give Day is an opportunity to simplify their giving and make their dollars go further. Dubuque residents Ernest and Peggy Jackson are among the thousands of people who give each year.
"We really try to contribute to make our community better, and Great Give Day makes it a lot easier," says Ernest. "When you see that something you've done has helped improve our community, it's pretty powerful."
For more information about Great Give Day, including a list of sponsors and Great "Grub" Day restaurants, visit GreatGiveDay.org.
Visit GreatGiveDay.org on Wednesday, May 17th to make your gifts to participating nonprofits.