The Dubuque Area Chamber of Commerce and Julien's Journal congratulate the newest Chamber members on their ribbon cuttings. We support these new businesses as a part of our community and wish them success.
Congratulations to CK Construction on their Ground Breaking Ceremony! In business since 1989, CK Construction provides their clients with the most dependable, professional, expert concrete, construction, and landscape service. Their vision is to provide the highest quality and customer-focused experience. Visit them at 7869 Commerce Park, Dubuque, and check out their website at CK-construction.net.
Congratulations on the ribbon cutting ceremony celebrating Steeple Square. Steeple Square has opened The Marita Theisen Childcare Center and will serve as many as 72 children in the tri-state area. The care center will be located at 1584 White St., the former home of St. Mary's rectory. Visit SteepleSquare.com/tag/marita-theisen-childcare-center.
Congratulations to Diamond Jo's FanDuel Sportsbook on their Chamber ribbon cutting! Diamond Jo has now added sports betting to their casino! You can bet moneylines, over/unders, props, and more, all at FanDuel Sportsbook. FanDuel will be located at the south entrance of the Diamond Jo Casino at 301 Bell St., Dubuque. Visit DiamondJo.com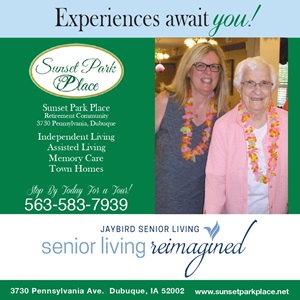 Ribbon cutting ceremony celebrating Kendall Hunt Publishing Co, 4050 Westmark Dr. for being in business for 75 years.
Ribbon cutting ceremony celebrating the opening of Delta 3 Engineering, Inc., 898 Jackson St., Dubuque. Delta 3 Engineering is a full-service engineering and architecture firm located in Platteville, WI, and now Dubuque, IA! Their firm specializes in civil/municipal and environmental engineering, structural engineering, architecture, grant writing, financial assistance, land development and planning, and land surveying services.
Ribbon cutting ceremony celebrating the opening of the Backpocket Brewing Beercade, 333 E 10TH St., Dubuque. A new "beercade" in Dubuque's Millwork District aims to blend the advantages of adulthood with the best parts of being a kid. The new offering will boast 50 games, many of which will offer a hint of nostalgia to players.
Ribbon cutting ceremony celebrating the opening of GreenState Credit Union, 1805 JFK Rd., in Dubuque, IA at 4:30 PM on Thursday, Oct. 3. Organized in 1938, GreenState Credit Union has grown to be the largest credit union in Iowa by creating lasting value for their 195,000 members.