Born and raised in Dubuque, Susan Farber is the second out of four generations of Farber's to be educated in the Dubuque Community School District, attending Bryant Elementary, Washington Junior High, and Dubuque Senior High. The strong family ties date back to Senior's Class of '33 when her father, Frank, became the first of the many Farber's to graduate.
Susan strongly believes that education is one of the primary drivers to one's successful path in life. Her Dubuque public educational experience has had a lasting impression and helped propel her academic successes at Georgetown, George Washington, and The Harvard Business School.
Never forgetting her Dubuque roots, whether living and working overseas in Paris and Brussels or living and working in the US in Chicago, Los Angeles, New York City, Silicon Valley, or Washington, DC, Susan has always prided herself in being "Bread and Butter" normal, highlighting her Midwest upbringing.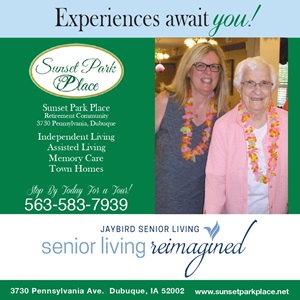 Her active involvement in Dubuque Senior's academics, athletics and student government laid a solid foundation for her numerous professional and personal achievements. This educational background also provided her the confidence and fortitude that has driven her life-long successes.
In 2015, Susan and her husband, Bernie, created Dubuque's first fast, casual restaurant, Magoo's Pizza, to which they have added two food trucks. This local eatery employs a crew of university and high school students who have nicknamed the working environment at Magoo's as "Entrepreneurship 101", where they gain hands-on experience in running a small business. Most enjoyably, Magoo's supports Dine Out for Public Schools.