Holy Family Catholic Schools is pleased to announce the hiring of Dr. Carolyn Wiezorek to serve as principal of St. Anthony Elementary and the Our Lady of Guadalupe Spanish immersion program. Wiezorek is a 1980 Wahlert Catholic High School alumna. She will begin her new position on July 1.
Before joining the Holy Family administrative team, Wiezorek taught fourth grade at Prescott Elementary and was an associate professor of education at Clarke University prior to that. Wiezorek also taught kindergarten and first grade at St. Anthony Elementary from 1986 to 1992 and served as Wahlert Catholic's head diving coach from 2012 to 2014.
Wiezorek earned her Elementary Education degree from the University of Iowa. She has a master's degree in gifted education and a doctorate in educational leadership from the University of Northern Iowa.
Other related experiences include Wiezorek's service on the Our Lady of Guadalupe Advisory Committee from 2004 to 2012 and on the Archdiocesan Board of Education from 2012 to 2018.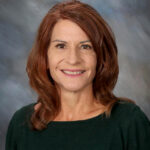 Holy Family Catholic Schools also announces Bonnie Sigwarth as the organization's new director of finance. Sigwarth most recently served as controller for the school system. She was promoted to replace Holy Family Chief Financial Officer Kathy Abba, who announced her plans to retire in September.
Before joining Holy Family in 2014, Sigwarth held finance positions in public accounting, manufacturing and distribution industries. She graduated from the University of Northern Iowa with a Bachelor's degree in accounting and also holds a Certified Public Accountant certificate.