With summer just around the corner I thought it would be nice to share wines that can be easily consumed while on the river, listening to the Music in the Garden, or just having a picnic with friends – and not have to have a designated driver for the trip home. I had mentioned to Team Wine that I wanted to try some non-alcoholic wines for "Sips," but I did not share it was this tasting.
Both wines were purchased at Square Wine Co. located at 5 N Pinckney St., Madison, WI 53703 (right on the Square). I bagged the bottles so when poured, all they knew was they were about to taste a red and a white wine. Read on to see how it went.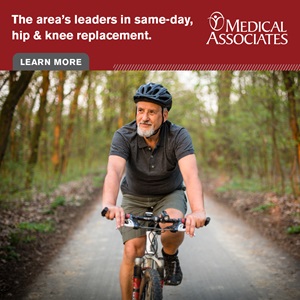 Sips:
From the Mosel River region of Germany, the J & H Selbach Funkelwürtz Zero (sparkling wine – .5% ABV, $17) is winemaker Johannes Selbach's entry into the non-alcoholic wine category. Grapes are 80% Muskat and 20% Rivaner, which are both in the Riesling family. The wine is fermented in stainless steel for a pleasant sweetness. The alcohol is removed using membrane technology – sort of a reverse osmosis process – and the finished wine is slightly effervescent and aromatic.
To read this and other premium articles in their entirety, pickup the May 2023 issue of Julien's Journal magazine. Click to subscribe for convenient delivery by mail, or call (563) 557-1914. Single issues are also available in print at area newsstands and digitally via the Issuu platform.