The restoration of the original Potosi Brewery has breathed new life in Potosi's downtown along with plenty of hometown pride. The building has undergone an amazing restoration, the natural spring exists as it did in the 19th century, still fed from the waterfall, and beer is being brewed once again.
The scenic drive to Potosi from Dubuque winds through tree-covered river bluffs. The relaxation begins even before the first beer. The Potosi Brewing Company is nestled next the bluffs that flank the highway. The Brewery is fortunately located on the Great River Road, bringing many tourists and touring groups during the summer months, from motorcycle groups to art clubs. According to Jerry Hollis (head chef), people have visited from most every state and from many countries. When we dined there, we met and visited with a vacationing couple from Montana.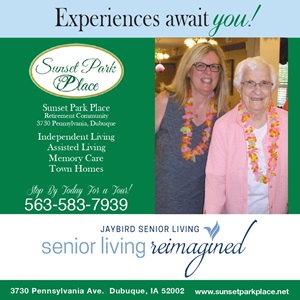 Inside the limestone walls of the Brewery, the history and workmanship continue. The bar, which took over 2,000 hours to make, was handcrafted by a Foundation Board member. The interior tabletops were made from the barrels (1890 Cypress wood) used in the original brewery. And after a beer and a meal, you can tour the National Brewery Museum and the Transportation Museum.
To read this and other premium articles in their entirety, pickup the July 2020 issue of Julien's Journal magazine. Click to subscribe for convenient delivery by mail, or call (563) 557-1914. Single issues are also available in print at area newsstands and digitally via the Issuu platform.