by Teri Link
The minute you step foot into Bread and Vine Dubuque you forget you're in the Midwest. The walls are lined with faux green grass and the disco lights are visible just beyond the reception stand. The employees are dressed in edgy black outfits with glowing orange eyewear. Pops of bright orange are everywhere and the walls are adorned with fun, modern art. The exquisitely restored brick-clad industrial space somehow feels cozy and intimate in spite of the soaring ceilings and exposed metal pipes. The dining area is lit with funky, muted lighting and a spinning disco ball scattering bits of color like confetti. The music choice during dinner is low-key, modern, and mixed by a live DJ, and there's an ambient background buzz of people talking and laughing. Combined with the music, it adds a cool urban feel.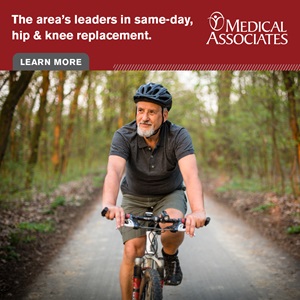 As you can tell from the description, this place is not your typical Midwest steak and potatoes joint. Those definitely have their place in our area; but if you've been searching for something special, this restaurant is for you. It's cool and modern, with an elevated and unique menu. Although it's not cheap, this is a new concept for Dubuque – and in my opinion worth every penny.
To read this and other premium articles in their entirety, pickup the May 2023 issue of Julien's Journal magazine. Click to subscribe for convenient delivery by mail, or call (563) 557-1914. Single issues are also available in print at area newsstands and digitally via the Issuu platform.