For a dozen years, Otto's Place (located at 100 Bouthillier Street in Galena, IL) has been a staple in the community, serving up classic breakfast and brunch dishes to local families and friends. Built in 1899 by Galena resident Otto Sallman, the original intent was for it to become an eatery. That dream didn't come to fruition for Mr. Sallman, but he'd be proud of the bustling neighborhood gathering place that it's grown into.
It's been a favorite of local couple Kevin and Lyndsi Scharpf for years. In fact, they loved it so much they recently purchased the restaurant.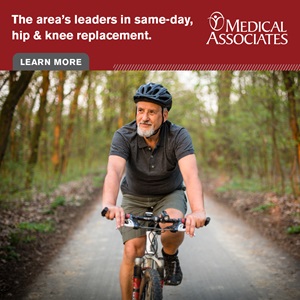 This dynamo husband and wife team also own the fine dining restaurant Brazen, as well as Birds. Food Truck in nearby Dubuque. With a background in culinary excellence, Kevin has won numerous awards and accolades for his innovative approach to traditional dishes. So, when he heard that one of his favorite places in his hometown of Galena was for sale, he saw an opportunity to create something truly special.
To read this and other premium articles in their entirety, pickup the March 2023 issue of Julien's Journal magazine. Click to subscribe for convenient delivery by mail, or call (563) 557-1914. Single issues are also available in print at area newsstands and digitally via the Issuu platform.