by Teri Link
Growing up in the business, Dino and Sam were always connected to the restaurant. Whether that was working nights during high school, or weekends and summers during college, The Log Cabin always held a place of prominence in their lives. Although they were both given free rein to determine their own careers after college, they both chose to return to The Log Cabin.
They enjoy working together and the jobs they each perform are varied. You will always find them in the front of the house during dinner service, but long before the restaurant opens its doors at 4 PM, they are back in the kitchen prepping.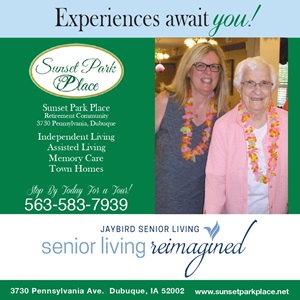 One of Dino's areas of expertise is butchering the various cuts of meat. All of their beef is USDA Prime, and they hand-cut it and age it in house for 40-50 days. Dino loves to talk to customers, but he also equally enjoys all of the roles he plays.
To read this and other premium articles in their entirety, pickup the October 2022 issue of Julien's Journal magazine. Click to subscribe for convenient delivery by mail, or call (563) 557-1914. Single issues are also available in print at area newsstands and digitally via the Issuu platform.