"Every time I come here, I feel like I'm somewhere on vacation," said one of Charlotte's fans.
The feeling of being on vacation might come from the unique West-Coast-inspired menu or the cool interior vibe of large-scale artwork, intimate spaces, and original brick walls. Yet, Charlotte's also possesses a "warm, homey atmosphere," according to the owner Cheryl Rusk. Referring to Charlotte's as the "living room of the community," Cheryl says, "it's a happy place" where "everyone gets along." Most rewarding for Cheryl is hearing customers talking and laughing. Charlotte's is most definitely a place to enjoy and relax; time seems to slow down a bit when one enjoys one of Cheryl's delicious lattes or other specialty beverages.
Ownership, however, has not been a utopia for Cheryl. Tragedy struck on August 31, 2018 when a fire caused extensive damage to both buildings, causing Charlotte's to close for thirteen months. Turning adversity into opportunity, Cheryl made several changes to the restaurant: adding a four-season porch, an upstairs 'library' for overflow, and a charming alcove (previously outdoor space between the two buildings).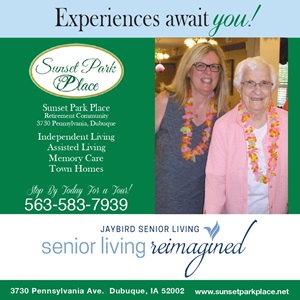 Streamlining the menu also happened post fire. While the menu at Charlotte's is not large, the options are unique and many cannot be found elsewhere. The food menu offers breakfast burritos, toasts, paninis, salads, acai bowls, a Keto bowl, and a soup of the day. Their drink menu offers a variety of espresso options, cold drinks (both coffee options and smoothies), specialty drinks, and non-coffee beverages. Of course, a major part of Charlotte's is her signature pastries.
To read this and other premium articles in their entirety, pickup the February 2020 issue of Julien's Journal magazine. Click to subscribe for convenient delivery by mail, or call (563) 557-1914. Single issues are also available in print at area newsstands and digitally via the Issuu platform.