Hotel Julien Dubuque is perfectly situated in the downtown area of Dubuque and has been painstakingly restored to integrate modern amenities with its historic charm. Originally built in 1839, the first hotel was expanded and renamed Hotel Julien in 1854. Many rebuilds and restorations later, the hotel remains the centerpiece of our river city. Not only does the Hotel Julien Dubuque provide travelers with a luxurious place to stay, but the hotel restaurant adds comfort and charm to the location. Caroline's is located in the lower level of the hotel and serves breakfast, lunch, and dinner seven days a week, along with a grand brunch on the weekends.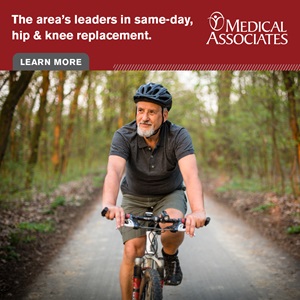 Walking into Caroline's on a recent weekday evening for dinner, I was struck by the quiet luxury of the restaurant. Stained glass windows cast an interesting glow to the waiting area. The ambiance is welcoming and warm. Oversized booths provide a semi-private dining experience, although if you are dining with a large group, several areas can be reserved for even more privacy. Rich wood furniture, combined with classic white serving pieces and cloth napkins let you know that this will be a special experience. Subtly shaded lighting and relaxing acoustic music set the stage for the main act, which is the food.
To read this and other premium articles in their entirety, pickup the July 2023 issue of Julien's Journal magazine. Click to subscribe for convenient delivery by mail, or call (563) 557-1914. Single issues are also available in print at area newsstands and digitally via the Issuu platform.