by Teri Link
This past November, Chad and Christina Miller opened their new restaurant/bar, Baraboo's on Main. Located in the building formerly occupied by Skinny Maginny's, the new business is the culmination of Chad's lifetime of experience working in the food service industry and is named after the couple's Labradoodle dog. With Christina taking care of the decor and arrangement of the physical space, along with heading up the marketing end of things, that leaves the management of the rest of the daily jobs to Chad. And boy, does he have his hands on every part of the business. On a recent visit, I watched him serve drinks, take food orders, wash bar glasses, clear tables, and expedite food. And in between all of these duties, he was greeting customers by name and making small talk, smiling the whole time.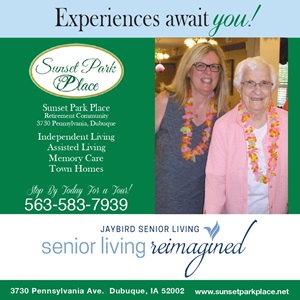 The building located at 345 Main Street has held a variety of businesses. A Take and Bake Casserole shop, Fresh Take, called this building home for several years. Skinny Maginny's relocated here in 2018 from its original location just a few blocks away. And now Baraboo's on Main is the latest tenant in the three-story brick structure that was built in 1885.  The space inside of the restored building is accented with pressed-tin ceilings, exposed brick walls, and corrugated metal.  Wood floors and a shiny wood bar warm up the long, narrow area which is dotted with high-top tables for 2 to 4 people and plenty of bar stools.  Although many of their neighbors have expanded their bar space to include the basement and upper floors, Chad is happy with the area that he currently has to work with. "It feels cozier, and more like a real neighborhood establishment. I would love for Baraboo's to be the 'Cheers' of Dubuque, and the smaller space lends itself to that feel."
To read this and other premium articles in their entirety, pickup the April 2023 issue of Julien's Journal magazine. Click to subscribe for convenient delivery by mail, or call (563) 557-1914. Single issues are also available in print at area newsstands and digitally via the Issuu platform.