How many times have we heard the phrase "you are what you eat"? Well, gosh darn it, if there is not science behind that phrase. Now we are also learning the phrase should be "your emotions are driven by what you eat." Yes, what you eat directly impacts your emotional state – your brain health.
May is Mental Health Awareness Month, so let's start talking about how the food you eat impacts the state of your mental health. Studies show 90% of serotonin – a neurotransmitter affecting our mood, among other things – is produced in the gut! The food we eat can feed good gut flora, or it can kill it.
Gut flora is referred to as your gut microbiome. It is all about your body being in balance. Your body will be off balance if your biome is overrun with unhealthy microbes. This can not only throw off your body and immune system, it can lead to brain health issues (as your serotonin is off), especially if you have been diagnosed with depression. And, let's be honest, I think most of us have been emotionally challenged this past year.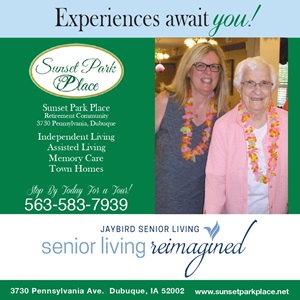 The good news is that there is plenty we can do to take care of our gut microbiome. And yes, it is as simple as making better food choices. However, it is also important to understand why certain types of foods properly feed our microbiome.
To read this and other premium articles in their entirety, pickup the May 2021 issue of Julien's Journal magazine. Click to subscribe for convenient delivery by mail, or call (563) 557-1914. Single issues are also available in print at area newsstands and digitally via the Issuu platform.