Perhaps no one helped clean up old Dubuque more than soap manufacturer James Beach of the firm James A. Beach & Sons. James, a native of Dover, New Hampshire, was born on July 26, 1835, the son of Lurandus and Harriet Burr Beach. Lurandus Beach was well known out East for operating a successful soap business, starting with a small operation in Dover in 1828. The family later moved to Lawrence, Massachusetts, a town Lurandus helped establish.
James was a frail boy. When he was unable to continue his education due to poor health, his father sent him out with a horse and wagon to exchange soap for used household grease in order to maintain a steady supply of the raw materials necessary for soap making.
James was one of many Easterners who felt the urge to go West and in 1856 at the age of twenty-one, he left his family and home to travel to Chicago. The following year, he crossed the Mississippi River into Iowa and settled in Dubuque, bringing the soap-making expertise he had learned from his father along with him.
James became associated with Dubuque's Francis M. Pleins, a businessman who had started a small soap and candle-making industry in 1850 in a wood structure located on the southwest corner of Dodge and S. Locust Streets. On October 22, 1855, when Pleins took on partner Jesse P. Farley, F.M. Pleins & Co. was renamed the Dubuque Lard-Oil, Soap, and Candle Factory. When James purchased Farley's share of the business in 1858, the company was renamed Pleins & Beach.
On January 14, 1861, James married Caroline J. Wilson. The couple had three boys – George Wilson, Edward James, and Charles Burr. After Caroline's death in 1872, James married Sarah "Sadie" Barr on January 14, 1873; after she died in 1887, he married his third wife, Mary L. Willard on May 29, 1890. Mary died in 1916.
Although Beach didn't have much luck in marriage, his soap enterprise thrived. The business took off and soon outgrew the original, wood-frame buildings. By 1863, the company was operating out of a brand new, two-story stone factory along with an addition used as a warehouse. The new construction on the site of the original business at Dodge and S. Locust cost the company an estimated $16,000.
More workers were hired to meet the demands of the soap business, which included not only common domestic soap but also "choicer grades of toilet savon." During its heyday, the firm annually manufactured more than 10,000 boxes of soap of the following brands: White Castile, Legal Tender, Peerless, Royal, Blue, Key City, Imperial, German, and Family. In addition to soap, the factory turned out 3,000-3,500 candles and 300-500 barrels of "extra winter-strained lard oil." Total annual sales amounted to "not less than $50,000."
In 1880, James bought out Mr. Pleins and in 1890, Edward, James and Caroline's middle son, was brought into the business as his father's partner. The soap company was renamed James Beach & Son. In 1891, a boom in the soap business forced the company to build a new, three-story brick building on the original site of the factory in order to keep up with the demand for Beach soap products. Forty additional men were hired.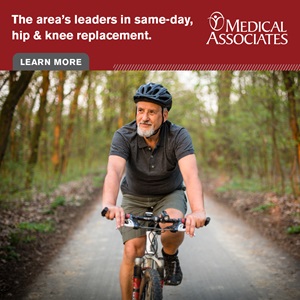 Four years later in 1895, Charles, James and Caroline's youngest son, joined the business. The company geared up to produce soap powder in 1906, becoming the first soap powder mill in Iowa. George Beach, James and Caroline's first born son, joined the business in 1918.
Although Beach soap products were most popular in the Midwest, they were also well known across the United States. The company's Northwest Laundry Soap and Maple Leaf Hand Soap were especially coveted. In 1872, using his experience in the soap business to his advantage, James became a board member and president of the Minnesota Soap Co. in St. Paul and Minneapolis. For several years, James had the honor of serving as the president of the National Soap Makers' Association.
While soap making occupied much of James Beach's time, he also served on the Dubuque City Council and was instrumental in helping acquire land for Washington Park and Grandview Ave. Beach, along with John T. Hancock, was also involved in the organization of the Linwood Cemetery Association. He was an original board member and president of Finley Hospital and Dubuque's German Bank. At the time of his untimely death, James Beach was the president of the Dubuque Packing Company.
In January of 1918 while on his way to work from his palatial home at 12th and Locust Streets, James Beach's cutter overturned near the soap factory at the corner of S. Locust and Dodge Streets. James was thrown from the sleigh. An x-ray at Finley Hospital confirmed he had severely broken his hip. James Beach died at Finley Hospital on February 2, 1918, nine days after the accident. He was eighty-two years old at the time of his death.
Following James Beach's tragic death, the soap company became known as Beach Brothers. Unfortunately, the company went bankrupt, closing in 1930. Some say that with more astute attention to finances, Beach Brothers could have rivaled Proctor & Gamble in popularity and sales.
After Beach Brothers closed, A.Y. McDonald Manufacturing Co. used the old soap factory facilities for its branch office and warehouse. Today, the land where James Beach ran his soap factory is vacant.
This article is part of the Shades of Dubuque series, sponsored by Trappist Caskets, hand-made and blessed by the monks at New Melleray Abbey.