UnityPoint Health – Finley Hospital hosted a ribbon cutting ceremony on November 13 for the new addition of a Trans-Sit Car Transfer Simulator to its acute rehabilitation unit and physical therapy services. This new car transfer simulator was made possible by the generosity of the Dubuque Racing Association (DRA); the Hayes Foundation, Tim and Linda Hayes; and the Tim Loeffelholz family.
The simulator is the first of its kind in the Dubuque community. It will provide functional training for patients to learn and practice safe and effective car transfers, which are often critical to a patient's continued community involvement and their access to necessities and medical care following hospitalization. The inability to perform the task of entering and exiting a vehicle has been linked to decreased quality of life, increased burden of care, and a greater possibility of institutional living.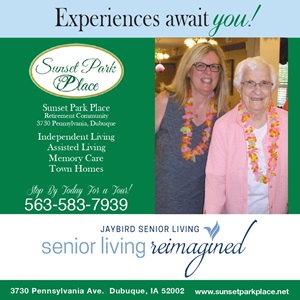 The simulator is the front end of a car with working doors, handles, locks, seat belts, bucket seats, gas pedal, brake, and steering wheel. The car simulator is height adjustable, so that physical therapists may match the simulator to the type of car, truck or SUV utilized by each patient. When utilizing the car simulator, patients perform a variety of physical tasks that include approaching the vehicle, opening the car door, getting into proper position for the transfer, turning and lowering themselves into the car seat, bringing their legs into the vehicle, buckling the seat belt and managing any assistive devices they have such as a walker, cane, or wheelchair.