Each spring, Hospice of Dubuque continues another tradition here in the tri-states. The community is invited to gather at the annual Tree of Life Memorial Service. This year's event will be on Tuesday, May 24, at 7:00 PM in Washington Park, located in downtown Dubuque. At this special event, a personal story of healing and hope will be shared.
The evening will also include reflection, music, and the lighting of the tree. This will be the first in-person event in two years as the ceremony was held virtually in 2020 and 2021 due to COVID-19. Attendees are encouraged to bring a blanket or lawn chair as there is limited seating. At the end of the ceremony, the Tree of Life display will be lit, and it will remain lit throughout Memorial Day weekend.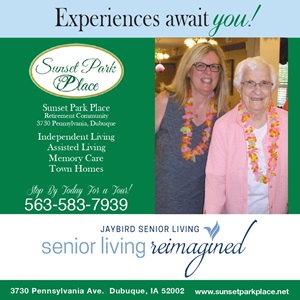 The Tree of Life serves as an opportunity for tri-state residents to pay tribute to loved ones honored and remembered. The ceremony and light display bring community members together to acknowledge their grief and be reminded that life can and will go on. Through this event, we are reminded that spring surely follows winter, bringing warmth, hope, and healing. This event is about neighbors joining together to support one another in their grief journeys.
For information on how to honor a loved one with a light on the Tree of Life display, please call Hospice of Dubuque at 563.582.1220 or visit HospiceofDubuque.org.