by Amy Schauer, Executive Director of Development
During Older Americans Month, we celebrate the contributions of older adults across our nation. Amid the COVID-19 outbreak in our country, we also want to celebrate those who serve the needs of older Americans. Often hospitals come to mind when thinking of the front lines of health and wellness needs, but other countless services are essential to the older American population. One such service provider is Stonehill Franciscan Services.
Stonehill has a long history of providing a full array of services to the tri-state area, including independent and assisted living, post-acute rehabilitation, inpatient and outpatient therapy, memory care, long-term care options, and a wellness center. A Franciscan Sister, the late and beloved Sr. Helen Huewe had given current President/CEO Gretchen Brown the charge to continue to "look for the next need" when she was hired.
The Franciscan Sisters began the journey to always look to the next need of the community and laid the foundation for Stonehill's legacy of helping people live well. Stonehill was a pioneer in meeting the needs of the aging population in Dubuque; one such need was memory care services. Stonehill was one of the first in the state of Iowa to offer memory care. Opening in 1986, its "Special Care Unit" was located on the 3rd floor South wing and had 17 rooms.
Director of Resident Services Laura Heiderscheit, a long time Stonehill staff member, recalls with fondness how all activities were held in an end-lounge on the 3rd floor South hallway of what was then called the Stonehill Care Center. Renovations in 1989-1990 added more space for activities and a dining room for this specialty Alzheimer's unit. A monthly support group for families was held by Sr. Helen Schneider, a BVM Sister and good friend of Sr. Dolores Ullrich (the former President/CEO/Administrator of Stonehill.) A monthly newsletter was created and sent to all family members and employees involved in the Alzheimer Unit from 1987-1991. Stonehill now publishes "The Gazette" as a monthly activities newsletter to help residents and families engage in the life enrichment activities offered on campus.
Over time, the services needed and the requirements set forth by governing bodies such as Center for Medicare and Medicaid Services have evolved, and Stonehill has adapted with these changes. Stonehill, a 501(c)(3) nonprofit, is involved with statewide groups such as LeadingAge Iowa to ensure current best practices are met and to stay ahead of trends in the industry.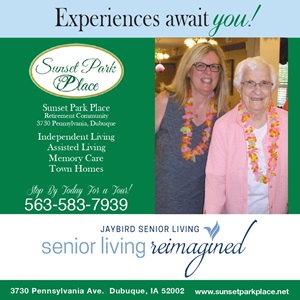 Staying ahead of trends and meeting the continued need for memory care, Stonehill opened the Sister Dolores Ullrich Memory Care Unit in 2013. This 16-room household specifically serves the unique needs of those with Alzheimer's and other forms of dementia. Staff who work in this household receive training specific to caring for those with these diagnoses. Stonehill looks for unique ways to serve their needs. In recent years, thanks to grant funding, Stonehill was able to purchase Rock 'n Go wheelchairs, which are therapeutic for residents who find the rocking motion soothing. Activities have evolved to a robust offering of art, music, culinary, spa activities, and many spiritual care options for residents and visitors. It's common to hear live music on campus or see a painting class in session.
When asked what makes Stonehill stand out, Heiderscheit states, "[Stonehill is] committed to providing a holistic approach to serving and caring for the individuals we serve. Since we are a community, our residents benefit from having a very talented and committed activities team that brings engaging and meaningful activities to their lives."
Having a solid footing and proven success in serving the need for memory care, Stonehill looks to the next need in the community – assisted living with memory care services. Many people wonder what the difference is between traditional memory care services at the Stonehill Health Center and assisted living with memory care services.
Stonehill CEO, Gretchen Brown, tells us, "Both of these environments offer wonderful programming and activities tailored to each resident's cognitive status. Assisted Living residents typically require more cueing and reminders related to activities of daily living. Because residents in assisted living continue to be fairly independent, they may need a more secured environment due to the risk of wandering. Skilled residents require more physical assistance with mobility, bathing, and dressing. Additional assistive equipment for transferring/lifting and bathing is necessary. Skilled residents also may have symptoms related to later stages of memory loss showing more cognitive decline."
In early 2021, Stonehill will open a new expansion to the Assisi Village building, which will include 14 assisted living apartments with memory care services and ten traditional assisted living apartments. Construction of the expansion is happening now.
The need for memory care services is anticipated to continue to grow, and we will see additional service providers beginning to assist in meeting this need. Additional information on this and other services at Stonehill are available at stonehilldbq.com or by calling (563) 557-7180.