SHALOM SPIRITUALITY CENTER
ShalomRetreats.org
Tai Chi at Shalom – Weekly on Mondays
Tai Chi uses breathing and relaxation techniques to loosen up our bodies, removing stress and allowing energy to flow. It has been shown to improve flexibility, blood circulation, and sleep quality. Tai Chi is low impact and generally safe for any age or athletic ability.
Yoga with Deb May – Tuesday, Apr. 4 @ 4:30 PM-5:30 PM
Welcome to our monthly Yoga class with Deb May, owner of YogaCare and Yoga instructor for over 20 years. Deb's Yoga classes promote gentle, flowing Yoga, allowing you to respect your limits and encouraging you to reach your potential. Discover the flow, light, and grace of Yoga; the flow, light, and grace of yourself. Yoga helps you relieve stress and build strength and flexibility. This class is beginner-friendly yet offers challenging poses while allowing everyone to practice at their level.
Walking and Praying in the Labyrinth – Tuesday, Apr. 11 @ 5:30 PM-6:30 PM
Is life too busy to sit and pray? We invite you to come and walk the labyrinth which is a sacred journey of prayer. This is a silent, prayerful practice suitable for older teens and adults. Freewill offering: RSVP at shalomretreats.org or call 563.582.3592 by April 10. Limited to 10 participants; socks required.
Lunch and Renew: Chair Yoga – Wednesday, Apr. 19 @ 11:30 AM-12:30 PM
Winter Shake off! Movement creates energy. Let's prepare body, mind, and spirit for spring with simple Chair Yoga poses while relieving neck, shoulder, and back tension, followed by a simple and delicious lunch! Cost is $15/person; please register by Friday, April 14.
Meditation and Music: Sound Healing – Monday, Apr. 17 @ 6:30 PM–7:30 PM
A wonderful meditative & healing session. Cost is $10/person; please register by Friday, April 14.
SINSINAWA MOUND CENTER
Sinsinawa.org/moundcenter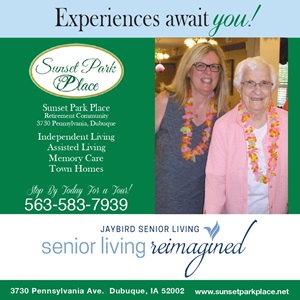 Native Book Discussion: Solar Storms (via Zoom) – Tuesday, Apr. 11 @ 7 AM-8:15 PM
Pulitzer Prize finalist, Linda Hogan, tells the moving story of a troubled Native American girl coming of age in the foster system in Oklahoma who decides to reunite with her family. A stunning island town that lies at the border of Canada and Minnesota where she finds that their sacred land is threatened.
Wood Painting: Spring Wreath (on site) – Saturday, Apr. 15 @ 9 AM-12 PM
Sarah Barnes will guide you step-by-step in how to paint on wood. All supplies will be provided.  Bring along your family and friends for an enjoyable and creative morning!
Healing Haunted Histories: Re-Member, Re-Story and Restore (on site) – Saturday, Apr. 15 @ 10 AM-3 PM
We live amid a time of great loss and upheaval. The roots of our challenges, as well as the path toward healing, lie in the way we understand our relationships within ourselves, within our families, within our spiritual traditions, within the community of creation and within the ongoing realities of colonialism.
Arbor Day Hike (on site) – Friday, Apr. 28 @ 5 PM-6 PM
Come celebrate Arbor Day at Sinsinawa Mound with a lovely hike through our forests and discuss the arboreal giants that live among us. This is an outdoor activity and we will be hiking on and off trail so be sure to bring sturdy hiking boots and weather appropriate clothing.
Joy of Forgiveness (on site) – Saturday, Apr. 29 @ 9 AM-4 PM
There's never been a better time to remove the barriers to a healthy, productive life! Even though people have hurt you and you cannot forget it, you can be free from grudges, resentment, self-defeating habits and negative feelings. Forgiving is the only way to stop the pain and bring hope to the future.
"Neutral Ground" Native Lands Tour (off site) – Saturday, Apr. 29 @ 10 AM-2 PM
In this Native Lands Tour, we'll travel to a number of sites around Fayette, Iowa where the Ho-Chunk were forced during the so-called "neutral ground" period of the 19th century.
Sinsinawa Mound Center is once again open to visitors and guests. View a list of upcoming events online or by calling (608) 748-4411.