Medical Associates Clinic is pleased to announce that Sean Schulte, MSPT, has joined their Physical Therapy Department. Sean received his Master of Science in Physical Therapy degree from Clarke University in Dubuque, IA. Previously, Sean worked at Memorial Hermann Sports Medicine and Rehabilitation in Katy, TX as a Physical Therapy manager. Sean is also a Sport Certified Clinical Specialist and a Certified Athletic Trainer.
Sean will evaluate conditions and design and implement an individualized treatment program for his patients, specializing in Sports Medicine rehabilitation. He will help patients improve or restore their physical function and fitness level by decreasing pain and increasing strength, posture, flexibility, and movement.
Medical Associates has also announced that Molly Boge, PA-C, joined the Medical Associates Urology Department. Molly received her Master of Science degree in Physician Assistant Studies from Des Moines University and her Bachelor of Science degree in Biology from Iowa State University. As a member of the Medical Associates Urology Department, she will help diagnose and treat all types of diseases of the kidneys, bladder, prostate, male reproductive organs, and male and female genitourinary system.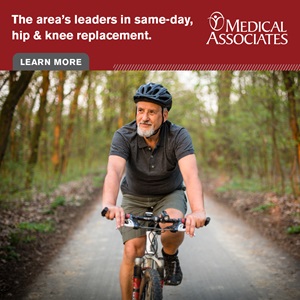 Christopher Omerza, MD, has been certified with the American Board of Surgery (ABS). Board certification from American Board of Surgery (ABS) is a voluntary process that demonstrates a surgeon's commitment to professionalism, lifelong learning, and quality patient care. Surgeons certified by the ABS have completed at least 5 years of residency training following medical school, met all ABS training requirements, and successfully completed the ABS examination process.
The National Joint Podiatric Carrier Advisory Committee (CAC) and Private Insurance Advisory Committee (PIAC) has awarded Medical Associates podiatrist Theresa Hughes, DPM, with the 2021 Raising Star of the Year award for her outstanding achievements and exemplary efforts in podiatric medicine. Dr. Hughes is a member of the CAC for Podiatry in Medicare in Iowa and has been elected as the National Chair for 2022-2024.
Dr. Hughes has been with Medical Associates Clinic since December 2015.