With temperatures across the state reaching more than 90 degrees, it's important to keep your heart safe in the heat. When it gets hot outside, your heart has to beat faster and pump harder to help your body shed heat. "If your body is unable to cool itself, strain is put on the heart and organs can suffer damage," said Shaa O'Donnell, MSN, RN, CCRP and Cardiopulmonary Rehab Coordinator at MercyOne Dubuque Medical Center.
With temperatures and heat indexes rising, anyone can suffer from heat stroke. But O'Donnell said people with heart disease and other cardiovascular diseases are at greater risk since their hearts may not be able to maintain cooler body temperatures in the heat. In addition, certain medications prescribed to patients with heart conditions reduce water in the bloodstream and can reduce a person's ability to cool off.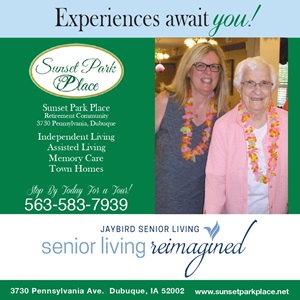 "If you have been prescribed diuretics or beta-blockers, ask your provider how much water to drink for hot conditions versus milder temperatures and listen to your body," O'Donnell said.
To read this and other premium articles in their entirety, pickup the September 2023 issue of Julien's Journal magazine. Click to subscribe for convenient delivery by mail, or call (563) 557-1914. Single issues are also available in print at area newsstands and digitally via the Issuu platform.