MercyOne has been awarded a $160,000 grant from AmeriCorps, the federal agency for national service and community volunteerism. This funding, awarded through Volunteer Iowa, will extend MercyOne's community health worker program, allowing eight AmeriCorps members to be trained as community health workers to serve communities of Clinton, Sioux City and Waterloo. Two community health workers will also be deployed in the MercyOne Des Moines Medical Center emergency department.
Community health workers are frontline public health workers who are trusted members of and/or have a remarkable understanding of the community they serve. Community health workers will support screening for social determinants of health, connect patients and their families to community-based organizations, and facilitate enrollment in available federal, state and local programs to increase access to health care support services.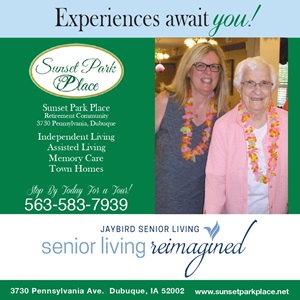 In other news, Wellmark Blue Cross and Blue Shield has recognized MercyOne Clinton Medical Center, MercyOne Des Moines Medical Center, MercyOne Dubuque Medical Center, and MercyOne Waterloo Medical Center with Blue Distinction® Center+ designations in the area of maternity care, as part of the Blue Distinction Specialty Care program. The designation places these MercyOne locations among the nationally designated facilities shown to deliver quality specialty care based on objective measures developed from the medical community for patient safety and better health outcomes.
The Maternity Care program was designed to respond to the clinical challenges in maternity care. Overall, cost of care episodes for vaginal and cesarean births at BDC+ facilities are 20% less than those at non-Blue Distinction Centers+ facilities. Overall, episiotomy rates were 49% less at Blue Distinction Centers (BDC/BDC+) than at those at non-Blue Distinction Centers. In 2018, BDC/BDC+ facilities across the country cared for more than 40% of Blue Cross and Blue Shield commercially insured women giving birth.