The Aesthetic Center by Medical Associates opened its doors on January 26. The newly developed center was originally scheduled to open last spring, but was delayed in order to allow focus on COVID-19.
This beautiful, new facility is located just northwest of Medical Associates West Campus Clinic at 1605 Associates Drive, Suite 102E in Dubuque. Services will include both minimally invasive and surgical aesthetic treatments, including body contouring, laser skin resurfacing, Botox, fillers, and cosmetic procedures to treat aesthetic concerns.
The Aesthetic Center staff is comprised of Board Certified Medical Associates physicians, a nurse practitioner, and aesthetic technicians who are all specially trained in the services offered.
Tim King, MD, is Board Certified in Otolaryngology (ENT) and has over 20 years of maxillofacial surgery experience. Dr. King serves as the center's Medical Director.
Alethea Hein, MD, is Board Certified in Ophthalmology and fellowship trained in Oculoplastics. Dr. Hein specializes in the surgical correction of droopy eyelids and wrinkles.
Ty Willman, MD, ENT physician, specializes in plastic surgery of the ears, eyebrow, and nose.
Emily May, ARNP, is certified in administering injectables and laser treatments to treat various skin concerns including acne, scarring, aging skin, pigmentation issues, Rosacea, skin laxity, and hair removal.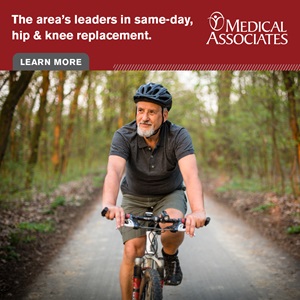 The Aesthetic Center's providers have the medical experience and expertise required to help each patient look and feel their best in a safe, clean, and comfortable environment. The state-of-the-art facility features comfortable, private exam rooms and a consultation suite, and is equipped with the latest technology, including the Sciton Joule X laser with the most advanced broadband light source on the market: HERO (High Energy Rapid Output).
"After much anticipation, we are excited to be able bring these new services to the Dubuque community and the surrounding area," stated Brian Schatz, Chief Operating Officer of Medical Associates Clinic. "At Medical Associates, our patients always receive the safest and best care possible from our trusted and skilled providers, and now they can experience that same level of care to address their aesthetic needs."
"The same providers you trust with your healthcare are now available to deliver precise, personalized care to treat a variety of your aesthetic concerns," said Dr. Tim King, Medical Director of The Aesthetic Center. "Our providers are specially trained in a wide variety of services, and skillfully blend aesthetics and medicine to safely and effectively address your concerns."
Initial consultations are always complimentary, and financing options are available with approved credit.
To learn more, visit AestheticsByMA.com or call (563) 584-3444.
About The Aesthetic Center by Medical Associates
The Aesthetic Center by Medical Associates opened its doors in January 2021. The Aesthetic Center is staffed by Medical Associates providers who are expertly trained to address all of your aesthetic concerns, including body contouring, laser skin resurfacing, hair removal, cosmetic procedures, and more. They are committed to skillfully blending aesthetics and medicine to bring out your inner beauty. See more at AestheticsByMA.com.
About Medical Associates Clinic
Medical Associates was established in 1924, and is the oldest multispecialty group practice clinic in Iowa. With over 180 providers serving Dubuque and the Tri-State area, their mission is to provide superior healthcare and an excellent patient experience. See more at MAHealthcare.com.