Medical Associates Health Plans received the highest marks in both the Centers for Medicare & Medicaid Services' (CMS) annual star quality ratings and the National Committee for Quality Assurance (NCQA) Health Plan Ratings, and is again one of the nation's elite when it comes to providing care and service to its Medicare members.
CMS – According to the Centers for Medicare & Medicaid Services' 2022 Star Quality Ratings, Medical Associates Medicare plans in Iowa, Illinois, and Wisconsin received 5 out of five (5) stars for overall quality and service, CMS' highest rating.
For eleven consecutive years (2012-2022), Medical Associates Medicare health plans have been rated 4.5 stars or higher. For 2022, CMS rated 471 health plans (with Part C), and Medical Associates was one of only four 5-star plans in the state of Iowa. Only 36 other medical plans in the nation received 5 stars!
Star ratings make choices easier – CMS developed the Medicare Star Quality Ratings to help beneficiaries compare plans and identify those who consistently deliver high quality care and service. The overall star rating combines scores for the types of services each plan offers. For plans covering health services, the overall score for quality of those services covers many different topics that fall into five categories: staying healthy, managing chronic (long term) conditions, member experience with the health plan, member complaints and changes in the health plan's performance, and health plan customer service. A 5-star Medicare plan is identified by CMS as providing high quality and value for Medicare beneficiaries. Every year, Medicare evaluates plans based on a 5-star rating system.
The 5-star Medicare rating is a reflection of Medical Associates Health Plans' continued commitment to its members and to the community. Members have convenient access to customer service, quality improvement, disease management, claims processing, and a 24-hour nurse phone line.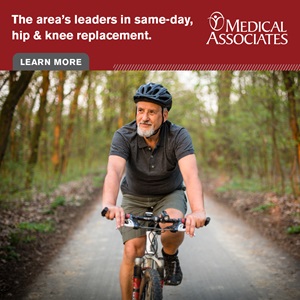 "We are very pleased to have earned the 5-Star distinction for our plans in Iowa, Illinois, and Wisconsin for 2022," stated Charlie Kirksey, Chief Operating Officer of Medical Associates Health Plans. "Our team continuously strives to deliver healthcare services that put members and patients first. I think our ratings reflect that."
NCQA – In addition to Medical Associates' high ratings by CMS, the National Committee for Quality Assurance (NCQA), rated Medical Associates Iowa, Illinois, and Wisconsin plan 5 out 5, the highest rating. According to the NCQA's Health Insurance Plan Ratings 2021-2022: Medicare report, out of 592 Medicare plans studied, there are only seven plans in the country that received the highest rating.
NCQA's Health Insurance Plan Ratings 2021–2022 compare the quality and services health plans in the United States and provide consumers with a practical and meaningful guide to understanding their health care options and choosing the best health plans for themselves and their families.
About Medical Associates Health Plans
Medical Associates is a unique provider-owned, regional health plan that has served employers and members in multiple states across the Midwest for over 35 years. They offer a wide range of flexible employer health plans, high-quality, low-cost Medicare plans, Third Party Administrative services, and a team of highly trained professionals who work closely with local providers to coordinate care to help their members receive the highest quality care at the most affordable price.
Medical Associates is consistently rated as one of the best health plans in Iowa and is one of only a few medical plans nationwide to consistently receive 5 stars from the Centers for Medicare and Medicaid Services (CMS). It is their mission to provide superior healthcare and an excellent patient experience. See more at www.mahealthcare.com.