Mike Kieffer enjoys an active lifestyle. The 62-year-old Dubuque resident is a regular golfer, avid hunter, and frequent gym-goer. One morning in late November, Mike was about to leave for a CrossFit workout when he noticed pain across his chest, numbness down his left arm and pain in his left shoulder blade.
"I was getting ready to go to the gym when I started having symptoms that I knew were heart-related," he said. "I have a family history of heart disease with my mom and dad, so I'm very aware of the symptoms."
His wife, Melody Bandy Haugen, drove him to UnityPoint Health Finley Hospital's Emergency Department. The ED staff concluded he was suffering from a moderate heart attack. In the cardiac cath lab, Dr. Timothy Martin, of UnityPoint Health Clinic Cardiology, placed three stents to open blockages in two arteries.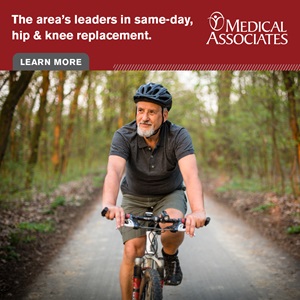 As part of Mike's follow-up care, he was enrolled in the Cardiac Rehabilitation program at Finley Hospital. Cardiac rehabilitation acts as a stepping stone for a patient after a heart attack. It provides an opportunity to form positive habits, increase aerobic fitness, and make sure treatments are effective.
To read this and other premium articles in their entirety, pickup the February 2022 issue of Julien's Journal magazine. Click to subscribe for convenient delivery by mail, or call (563) 557-1914. Single issues are also available in print at area newsstands and digitally via the Issuu platform.