by Kim Tallon
We are living in unprecedented times. For most of us, our days look very different than they did a few months ago. We have canceled trips, parties, social events, and traditional academics. Our day to day lives have adjusted and shrunk to fit into our homes and onto our screens in a way none of us could have anticipated. And we don't know how long it will last.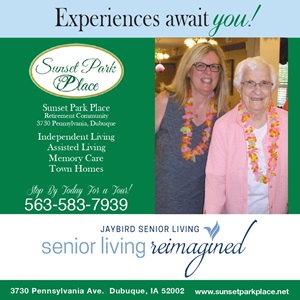 The news is full of information on this new virus, but less air time is given to something affecting many of us intimately: social isolation, anxiety, and fear. Brain health has never been more important. Diagnoses such as anxiety and depression already include feelings of isolation, difficulty coping with stressors, and a general struggle with normal day to day activities. Compounded with current circumstances, these issues can easily spiral to a place that feels chaotic, frantic, and out of control.
To read this and other premium articles in their entirety, pickup the May 2020 issue of Julien's Journal magazine. Click to subscribe for convenient delivery by mail, or call (563) 557-1914. Single issues are also available in print at area newsstands and digitally via the Issuu platform.