by Linda Peterson, PhD, NCC, CLC, CHC, Statera Integrated
What does it mean to age well? Often when we approach those milestone birthdays at ages 50, 60, and 70, we begin to get serious about the number and quality of the years ahead of us. We begin focusing on how to keep ourselves active, vital, productive, and joy-filled as we age.
We should be thinking about those years ahead of us, because according to a 2019 study by The American Psychological Association: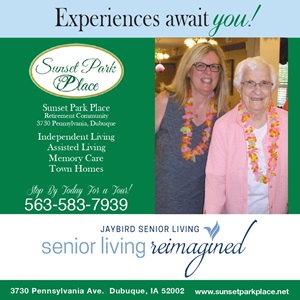 One in every four 65-year-olds today will live past age 90.
One in every ten 65-year-olds today will live past age 95.
The fastest-growing age group in the US is age 85+.
So, what does it really mean to age well? That answer can vary based on the goals and values of every individual.
To read this and other premium articles in their entirety, pickup the May 2021 issue of Julien's Journal magazine. Click to subscribe for convenient delivery by mail, or call (563) 557-1914. Single issues are also available in print at area newsstands and digitally via the Issuu platform.